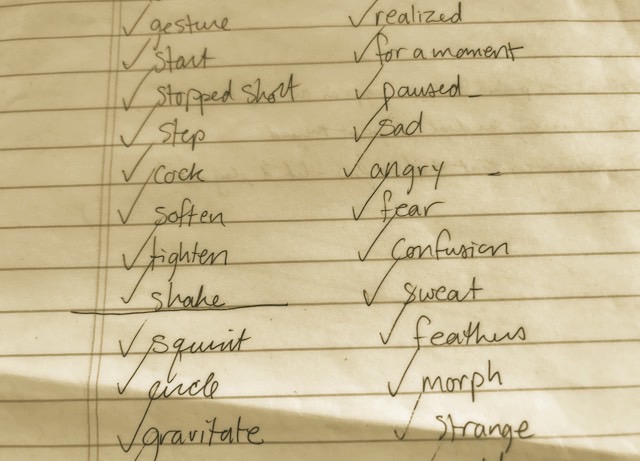 This morning I submitted the final edits of my manuscript to my editor. I've been working on it since November first (with a few weeks off there in December while the kids were on vacation), and it blows my mind that I could spend that much time editing something that, last January, I thought was done.
What exactly have I been doing all this time? Basically, I added 5,000 words and then cut 5,100 other words.
Bigger Changes
Going in, I had to accept that the time for really big changes is long gone because my publisher likes my story and wants to put it out into the world and I don't want to mess with that. So I re-read it (and asked my beta readers to re-read it) with the idea that I'm not making any more "big" changes but I still want it to be as good as it can be. I will admit to being super anxious as I waited for their thoughts, but ultimately the feedback I got helped me to make a few key changes that I'm calling "bigger" not "big." Mostly these edits involved two things: expanding and maintaining tension.
The consensus was that I had one character who readers wanted to know a more about. Specifically, they wanted to know how my main character navigates her feelings around this guy. Conveniently, this was a note I also got from my editor. So I did a lot of expanding around this character and one other (to a lesser extent).
Next were the places where I actually went into the story to organize. It was pointed out to me that I tend to dispel tension in my scenes by explaining how things will work out. I'm particularly bad about doing this when it's not a major plot element. But I upped the tension through the entire book by going through and rewriting these minor scenes so that my main character isn't sure it will all work out. Now she has uncertainty coming at her from all sides and the overall story hums along at much more compelling pace.
Smaller Changes
Once I'd done the bigger changes, I hunkered down with a list of words that my readers found repetitive. I'm embarrassed to say how many there were. Before submitting to agents I had gone through and weeded out the words I know I use as crutches (just, felt, seemed, realized), but I guess cleaning those up only left these other words room to stand out.
Using the word search function in Scrivener I systematically went through every word on the list (see below). Some of them I could just delete, but at least half of them had to be rewritten. I had to really push myself when I saw how often I relied on "shaking hands" to denote intense emotion, and instead dig in and really describe what that character was feeling. I can't believe this is a lesson I'm still learning. But that shit is hard. No joke. And what's more, I found countless places where I could be more precise in my writing, turning three sentences to one.
The end result was a slow, but steady, decrease in the overall word count. Arg!
The Overall Result
When I was done, my manuscript actually had 100 fewer words in it. After all that. But the story is richer and fuller for the edits. I am actually saying more (considering that I added backstory and adjusted plot elements to be more compelling) with fewer words. So I guess that's what I've been doing these past three months.
The List
Okay. Even though I find it wildly embarrassing, I'm going to share the list of words I spent the last month trimming. Don't judge. Maybe they can help someone out there make their own manuscript better. (Not you, of course, but someone.)
Turn
Look (ug, how could I have so many people turning and looking at things?!?!)
Gesture
Start
Stop
Step
Soften
Tighten (throats and chests)
Shake (as in hands)
Squint (in my defense – my story is set in the desert)
Gravitate
Circle
Exasperate
Thick
Faint
Long
Old
Wide
Curious
Defensive
Front
Back
Air
Breath (lots of deep breaths)
"in my mind"
Moment
Stomach
Chest (see note above about tightening)
Bodies
As if
Paused
Sad (I mean really, there must be a hundred ways to depict sadness)
Angry (ditto)
Fear
Confusion
Sweat
Feathers (it IS a book about ostriches)
Morph
Strange
Odd
Imagine
Point (as in "no point")
Remembered
Think/Thought
Occurred
Struck
Laugh
Fell
Get
Sink
What words do you overuse? Share a few so I can feel a little better about my writing ticks.