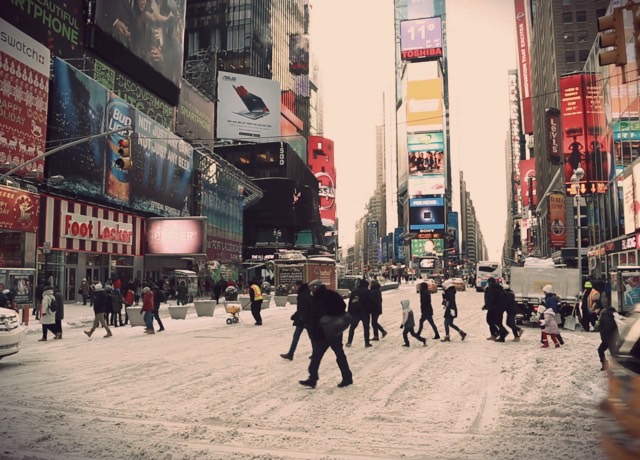 If you've been following along, you know that I was on the east coast last week. I was actually heading to a conference near Washington DC, but since I almost never get out that way, I decided to fly out a few days early to New York.
The idea had been to meet with my agent and my editor at Kensington Publishing, maybe connect with a few of the people I'll be working with when my book comes out. Honestly, I wasn't sure what I was hoping to accomplish, but I had friends who were willing to put me up so I decided to go for it.
I'm so glad I did.
Meeting My Agent
First I met with my agent. Now, a little clarification, because it's possible you've read my post about meeting my agent back with I actually signed with him. My "agent" is actually a duo. The west coast man is Joel Gotler. Given his proximity to all the Hollywood business out here, he jumps at projects he feels have potential for film adaptation (wouldn't THAT be cool?).
On the east coast, his partner Murray has his finger on the pulse of the New York lit scene and he manages the more literary half of their business. It was Murray I had never met. So on Wednesday we had breakfast and we ended up talking for two and a half hours about editing, books, and writers, and my new project. It was interesting to hear about how things work on his end.
Meeting My Publisher
From there I made my way to midtown and the Kensington Publishing office. They work out of the top two floors of a building just off times square. The two hours that followed were worth every dollar I spent to get there.
I met my editor in person. His office was overflowing with books. Every wall was lined with shelves, and on every shelf there were books stacked in front of books. When I started salivating he offered to send me a care package (which was waiting for me when I got home).
We chatted for a minute about the edits I turned in last month. He's happy with the draft and doesn't foresee any more major changes, which is an exciting thing to hear.
Then he walked me around the building and introduced me to everyone who is and will be working on my book. There were so many of them! I guess I hadn't really thought about it, but there were sales teams, international sales teams, graphic design people, marketing people and more. So many I can't even remember all their roles, but what I do remember is that every one of them said something along the lines of "we just love your book."
Ego Fluffing
Okay, I will fully cop to it being a serious ego trip, but seriously, in the ten years I spent working on this book alone in the dark early hours before work, I had to just believe that people would someday enjoy my story and now here it is – ACTUALLY HAPPENING.
I will also admit that it's entirely possible that not EVERY person truly loves my book. I mean, it's kind of their job. It's not like they're going to say "oh, yeah, yours is the mediocre story about the ostriches," even if that's what they think.
But letting go of all that for a minute, it was just so fun to hear the words over and over. I wish I had recorded it all so I could replay it on those days when self doubt sets in. Because bullshit or not, it's a serious emotional boost to hear that people like your book.
The Road Ahead
At the end of the tour my editor left me with my marketing team and we had a good long talk about all the things that will be happening in the next year. As I've blogged about already, I'll be revamping my website once I have some cover art (which may actually be soon – stay tuned). We planned some strategic articles I can pitch in the months leading up to the pub date and talked about what conferences it would make sense for me to attend. We basically reviewed the author questionnaire I filled out and they told me which ideas were worth the time and which I could skip.
The whole experience had the effect of shifting my perspective. Having turned in my final edits, I was kind of settling into being done with this project, but the work is only just beginning. I'm so grateful to have a team of professionals to work with. This is the number one benefit of traditional publishing and it makes the long timeline totally worth it.
Stay tuned. I will share the cover art as soon as it's approved, and I'll be blogging all about this crazy process of publishing as things unfold.
I'm also starting work outlining a new book, so I'll be writing more about that in the coming weeks too.
And before I sign off, I'd like thank you all for being with me on this journey. This blog, along with the writing community on Twitter, has been a real touch stone for me through these past many years. It's very fun to finally get to share this part of the story.