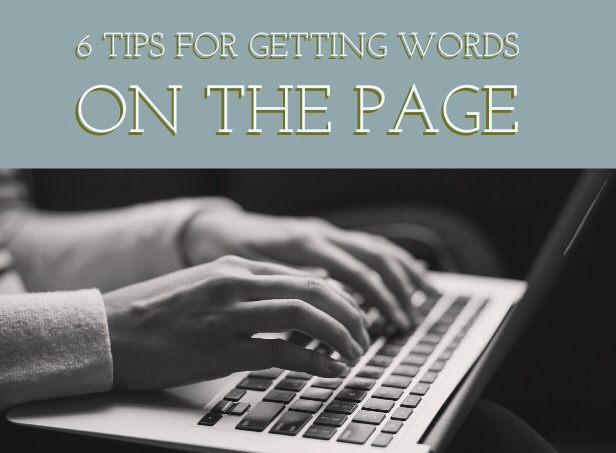 I was talking with a friend recently who is feeling daunted by some writing she wants to do. She's a consultant in the non-profit sector and would like to write a series of articles for her own website about some of the things she has learned, things that would be useful to her clients. But she's having trouble getting started.
She asked my advice, and as we talked it through I realized that the thoughts I was sharing with her would be good for any writer who's having trouble getting started, whether they're writing non-fiction or fiction, for themselves or for an audience. It doesn't matter. Because basically what we're talking about is getting past the obstacles to writing.
Obstacle 1: "Everything I write is crap."
One of the reasons my friend is having trouble, paradoxically, is that she's actually a good writer. She always wrote excellent reports in college and knows good writing when she sees it. So when she writes a sentence, she sees that it's crap, erases it, and stares at the blank screen for a while before doing it again.
My advice: Don't worry about quality. Not yet. I'm sure you've heard some writer, somewhere, talk about their shitty first draft. That's how it works.
What to do: Start typing. Seriously. If you're staring at a blank screen and it has you frozen, start by typing "I'm staring at a blank screen and it has me frozen. What I want to write about is ________. I want to impart this one big idea. I had this idea when I…"
Get words on the page. You will make it all pretty later. I promise.
Obstacle 2: "But I Just Can't Figure Out How To Start My Piece."
Beginnings are the hardest thing to write. Harder even than endings. If you sit down and try to start your article/story/essay with a brilliant first line that encompasses all the ideas you will explore in the coming paragraphs you will undoubtedly become paralyzed.
My advice: Don't.
What to do: Write your beginning paragraph last. Once you've composed the rest of the article/story/essay you'll have much better sense of how to set the scene with your opening words. I suppose it's not impossible to write the first paragraph first, but in my experience, it's exceedingly difficult.
Obstacle 3: "I can't find the time."
There are 24 hours in a day. You can find the time. I've written several posts about how to make time for your writing. Try this one, or this one, or this one, or this one.
My advice: Set aside one hour a week. Just one hour.
Then Do These Things In This Order: Go the bathroom. Get a drink of water/coffee/tea. Set your phone in the other room and turn off the ringer. Then sit down, close your web browser and your email. Start a timer. For one hour you will not get up, you will not accept phone calls, you will not search the internet.
If you come across something you think you need to research, type RESEARCH THIS LATER. (I like to add a little xx next to it so I can easily search for those spots later.) Do not look anything up.
For one hour, you are only allowed to write and stare out the window. Eventually boredom will win out and you will put some words down.
Obstacle 4: "I don't know how to organize my thoughts."
After you've been writing for a while (give yourself four, 1-hour writing sessions before you even try to organize), you will want to put some structure to what you've put on the page, to create a coherent beginning, middle and end.
My advice: Think in terms of headings.
What to do: Read over what you've written. If it's non-fiction, certain ideas will jump out as being the big ones. Then there will be smaller ideas that support the bigger ones. If you're writing fiction, you will start to get a gut feeling for the narrative order of your story.
For fiction, check out this post on how to organize your writing into a story.
For non-fiction, create headings for your big ideas. Put them in bold if it helps. Then go through your writing and move things around so that all the ideas (both big and small) that belong under that heading, can actually be found there.
This is, in effect, outlining, but I find it's easier to do once you've written a bunch and know what you want to say. So if it's helpful to use bullets and other such traditional outline formats at this point you totally should, but at some point you have to get all the pieces into a narrative format. That is to say, a collection of sentences that run together in an interesting/informative way.
Obstacle 5: "I keep going off on tangents that have nothing to do with my topic."
If you find yourself writing about something that has nothing to do with what you sat down to write, you've gone off on a tangent. Lucky you. Because those tangents can be whole other articles/stories/essays.
My advice: Run with it.
What to do: Go back to the spot where your writing diverged from the topic you intended to write about. Copy and past everything from that point on into a new Word doc and save it. Then close it and come back to it later.
If you happen to be writing for an online platform, these tangent pieces will become the related topics that allow you to interlink your work. (See above where I linked to four different articles that are on similar topics. Included in this piece, they would have been sprawling tangents and made this post unreadable, but on their own, they stand just fine.)
You may even find that you abandon the original idea and end up writing the tangent piece instead. Don't fight it.
Obstacle 6: "I've got all my ideas organized, but the writing is choppy."
You're getting close. You've got all your ideas in the right place and it's a respectable length (for whatever platform your working on). But it's awkward. It doesn't read smoothly.
My advice: It's time for a granular edit.
What to do: Start by reading it out loud to yourself. The out loud part is critical. When we hear our own words, we notice things that don't sound right. Making it sound "right" is about getting your own voice down on the paper. So read it out loud and edit as you go.
When you're all done, put it away for at least a day and read it over (preferably out loud) one last time before letting anyone else read it. You will catch things you didn't before. It's weird.
Also, depending on how important the work is, consider hiring an editor. A quick google search will present you with many options. At the very least, review my free grammar guide and make sure you're not making any obvious mistakes that will distract readers from what you're trying to say.
And Then Some…
What other obstacles have you faced as a writer? Let's keep the conversation going in the comments. I'm sure there are other speed bumps that people experience when they try to write. And I'd love to hear other people's thoughts on how they address the six challenges outlined here.