This talk on creativity by Adam Grant is totally worth the fifteen minutes of your life that it takes to watch, but in case you're too busy, here are the main take aways:
Being quick to start, but slow to finish, can boost your creativity.
You can motivate yourself by doubting your ideas.
You need a lot of bad ideas to get to a few good ones.
These concepts resonate with what I believe about creativity. The first one in particular.
One of the reasons I like to have multiple projects going at the same time is that it allows the ones that are dormant to percolate and grow in my mind while I'm not actively working on them.
I love putting an outline in a drawer while I work on the draft of another project because ideas will bubble up unbidden. Sometimes the new ideas are so right for the story that when I do finally go back to that outline, I'm surprised at how dated it is, because the story has evolved and gotten better in my head. All I have to do is implement the changes that my brain has come up with while I've been away from the project. This is that "quick to start, slow to finish" thing Grant talks about. I've just never heard it articulated so well.
I'm also a big fan of having lots of bad ideas. Oh, man, the pages I have filled with bad ideas…
Like this little gem I found in an old notebook: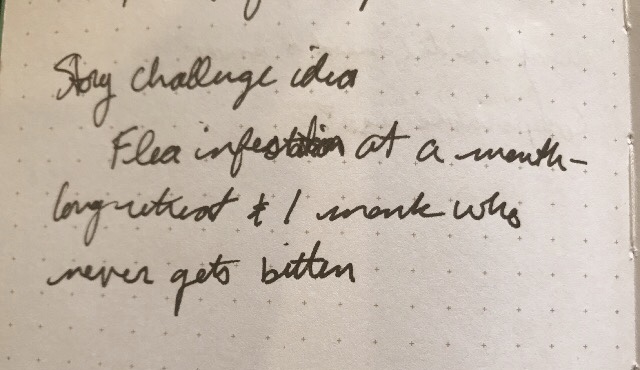 Honestly, I don't even know what a "story challenge idea" even is. But this story about a monk who DOESN'T get bitten by fleas is definitely one for the ages. I mean, look out Moby Dick.
What do you make of Grant's ideas? Do they ring true for you too? Or do you have your own philosophy on creativity? Does it involve fleas?