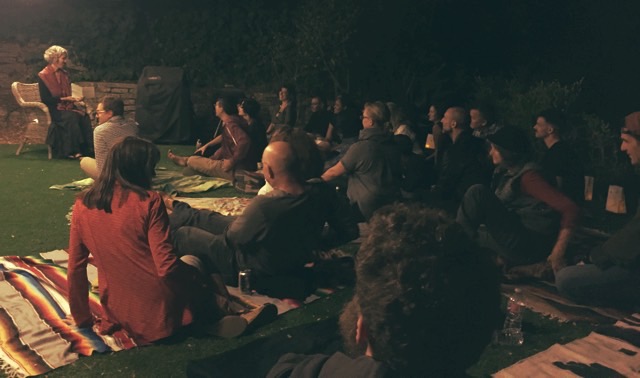 On Saturday night I read a short story I've been working on at a Literary Salon hosted by Alexandra D'Italia, professional writing coach at The Writing Leap here in Los Angeles, and my writing buddy.
Nerves
It was a good turn out, and so there were a bunch of people curled up on her back lawn. I was nervous. I've only read to an audience a handful of times, and every time I get nervous. To compound things a bit, the woman who read before me did a charming job of sharing her new project – a modern guide to manners. My story is about breakup sex. It uses more than a few swear words.
The good thing about Alex is that she doesn't cringe. She can love a book about manners AND embrace a fairly raunchy short story about trying to leave one's boyfriend, over and over. She knew what I was going to read, and it was her party. So I went for it.
Success
Getting over that fear of putting yourself out there as an artist is hard. My hands were shaking when I first took the stage, but it went well. I even got a few laughs. It was very encouraging to have people seek me out after the readings and tell me they liked it.
Best of all, before I read, I mentioned that I wasn't happy with the title, and afterwards, a had a great discussion with a slightly drunk couple who compared my story to trying to quit smoking. The husband suggested I call it "How to Quit Smoking," and there is actually some smoking in the story. But driving home that night, I landed on "Quitter." It's perfect. Thanks slightly drunk couple! You guys rock!
I can't wait for the next literary salon. I won't be reading. I get to just go and enjoy myself.