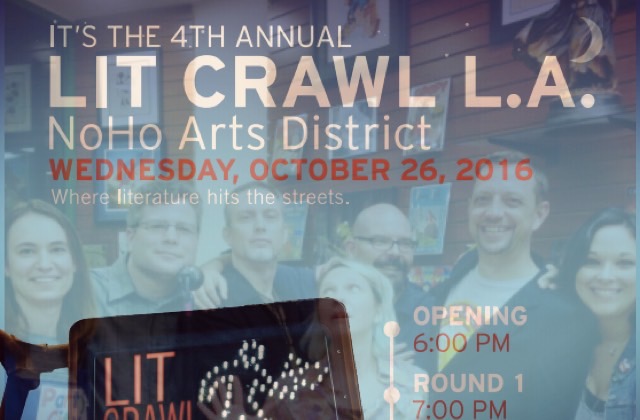 Last night I crawled the streets of North Hollywood with a few hundred other book fiends for the Lit Crawl LA 2016. Last year I heard about it two days after it was over, so this year I planned ahead. (By the way, if you missed it, consider signing up for my LitLifeLA email update – it goes out every Monday with a list of the week's upcoming literary events in Los Angeles.)
I started at Blastoff Comics for a reading titled Weird and Wicked. My friend from way back, Laura Bahr, performed with five other authors. The whole thing was really well organized, and each reading only took about 5 minutes, leaving us plenty of time to make our leisurely way to the next venue.
The last reading I attended was a poetry reading hosted by Red Hen Press of Pasadena. Sometimes, when I'm working on a fiction project, I like to go to poetry readings and just let the imagery wash over me. I find I walk away inspired every time, and last night's readers didn't disappoint.
All in all, the night was everything I had hoped it would be. Five out of five stars. I spent a couple hours at the after party talking to new writer friends, and catching up with some familiar faces I hadn't planned on seeing. I got to bed waaaay too late, and slept through my 5am writing wake-up call, but it was worth it.
They don't have a date for next year yet, but keep in touch and I'll make sure the word gets out.