In case you're unfamiliar, the Squaw Valley Community of Writers is a conference. Every day starts with writing workshops. After a lunch break, participants come together for craft talks, panels, and readings. Basically, as a participant, you start with your workshop group at 8:30am, eat, then get back to learning and absorbing until well after dark when the authors do readings under the stars. Then you race home to read and make notes for the next morning's workshop. It's a marathon of a week. Not for the faint at heart.
I learned so much, and met some amazing writers, but since I usually try to keep things focused on the practical here, I thought I would share a few things I learned (or learned again) about workshopping. These ideas apply to anyone giving or receiving feedback on their work, so don't feel like you have to go to a conference to use them. Just grab a writing buddy and start helping each other out.
Here they are:
1. Before giving feedback, read the work at least twice. The first time through, just read. Don't even hold your pen. If you can, take a break after the first read, then come back with your pen and set to work.
2. Aim for four comments/notes per page. I like to put check marks next to things that work for me, and sometimes that's all I have on a page, but it can be hard to get feedback, so hearing about what works is just as important as hearing about what doesn't.
3. Don't push your own expectations onto the story. Pretend you're reading the New Yorker. If you don't understand it, consider that maybe it's you. Maybe you're not getting what the author is going for. Maybe they are jumping POVs on purpose, or slipping around in time to represent a character's state of mind. Don't be too quick to judge.
4. If you get conflicting feedback from readers, see it as a sign that something isn't landing on the page. The analogy, given by (the incisively thoughtful) Charmaine Craig, was that of a fever – it is just a symptom of infection. You have to be the doctor and get in there to diagnose and then cure.
5. Don't be discouraged if you haven't figured something out (like theme or who the murder victim is). Your confusion will be your reader's delight because the story won't be telegraphed. As you discover the answers, so will your readers. Your story will be better for it.
Those are some of the highlights.
And with that I will simply close by encouraging everyone out there to apply to the Squaw Valley Community of Writers. And if you don't get in, keep trying. It was such a great experience.
And one more photo from a little hike I took mid-week. So pretty: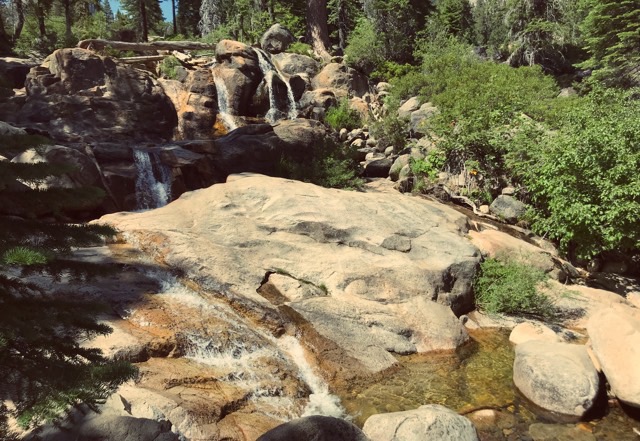 I am exhausted. In the past month I've slept at home, in my own bed for only four days. It's my own fault. I planned this summer's schedule, but honestly, when I did, I didn't expect to get into the Squaw Valley Community of Writers. I had applied before and not been invited, so I didn't bother planning my summer around it. So when I did get in (high five!) I had to rearrange my plans and things got a little hectic. I regret nothing.