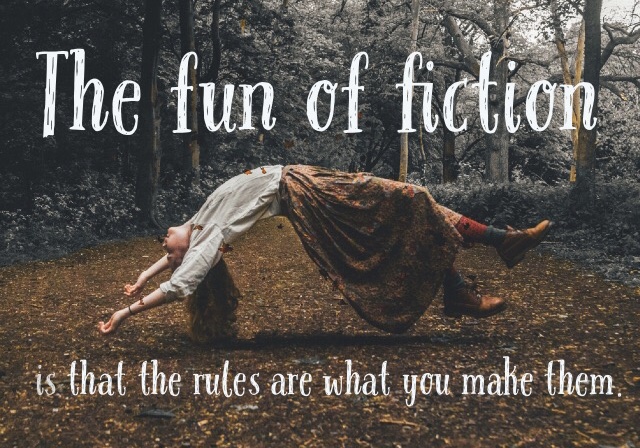 I went to a reading in November at Skylight Books to hear Wayétu Moore discuss her recent debut novel She Would Be King. Without giving too much away, it's a cross between a slave narrative and a super hero story and it's no surprise that the book is getting a lot of attention. As with any good super hero story, it plays with reality, bending the rules of the world as we know it.
Magic in Stories
I absolutely love stories that play with magic (and or advanced science that reads as magic), but there is a trick to it and sometimes I feel like authors get in over their heads. Stepping away from reality in a story can go awry quickly if you don't establish the rules of the world and stick to them. Nothing will make me ditch a book faster than a story that breaks its own rules.
For instance, say you've set up a world where anyone can do magic, but they have to be holding a wand. Then you have a character cast a spell without their wand. Bam. That's me putting down the book.
Say your characters can fly, but then you have one character who can't. You have about three pages to tell me why or I'm getting frustrated and losing interest.
A Few Thoughts on the Rules of the World
I read a lot, in a lot of different genres, and there are a few things I've noticed that are critical for magic to work (whether you're writing fantasy, sci-fi, super hero stories, or some combination thereof):
Establish the rules as quickly as possible.
Do it with example. This is the big challenge to you as the writer. Using exposition is boring, so you have to find a way to show the rules of the world, as quickly as you can, through example. It's difficult, but you're a writer, damn it. Make it happen.
If there are exceptions to the rule, tell us right up front. I would actually prefer a bit of exposition here so that I understand the rules up front before someone breaks them, but again, if you can, better to show than tell.
Once they've been established, do not break the rules of your world. Don't do it. If you come upon a point where your story really can't continue on with the rules you've established, you have to go back and change the rules throughout. You can't bend them just to get through a scene. It's cheating, and your readers will notice.
Examples to Check Out
If you're working on a story with unusual world rules, be it magic realism, fantasy, or sci-fi, you can learn a lot by checking out some rule-heavy works to see how they do it. Here are a few to read:
Ready Player One (fantasy/sci-fi by Ernest Cline). This book is FULL of rules. Rules for every section of the made-up world. Rules that change constantly. And yet I didn't feel bogged down in them as I was reading. A great example of how to set the rules of the world without losing the story.
Red Shirts (sci-fi by John Scalzi). Or really, pretty much anything by Scalzi. He is great at making up worlds (and even whole universes) where the drama is dependent on the rules of the world.
The Name of the Wind (fantasy by Patrick Rothfuss). This book, and it's sequel The Wise Man's Fear, exists within a world with pretty hard and fast rules. Certain powers can be evoked to make certain things happen. The fun comes when our hero begins to learn magic and can manipulate the rules.
The book by Wayétu Moore mentioned above: She Would Be King. For all its magic, it's pretty straight up literary fiction. So if you're working on something in that genre that plays with reality at all, it's definitely worth a read.
Not a book, but the movie Wreck It Ralph is another example of story with a TON of rules. Yet, the narrative roles along easily without getting mired. An easy way to check out how rules can be shown through example.
If anyone else has some examples they can point to, share 'em here. To be a writer is to be always learning.