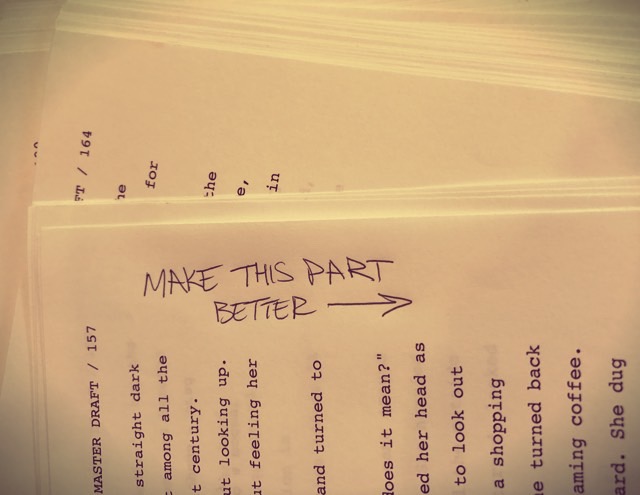 I've written a lot about how to speed up the process of writing a first draft. (Check out this post on How to Write Faster.) If you believe, like I do, that writing is rewriting, getting through that initial pass really can't be done quickly enough. We gotta get those words on the page before we can edit them into something that accurately represents the story we want to tell.
But then, eventually, we have to do the rewriting. When I posted that piece on how to write faster, I got a question from a reader about how to edit faster. That is a much harder task.
The best trick I know for better self-editing is to pretend that work isn't mine. It's a two-step process.
Set Yourself Up For Success
Step 1: Put the draft away for as long as possible. For me, this means printing out a hard copy and actually putting it in a literal drawer. I look at my calendar and decide when I plan to take it back out, and then I start work on another story.
Last October I did just that and spent November participating in NaNoWriMo for the first time. I now have 50,000 words on a new novel. It turned out to be a very effective way of getting my mind off the draft. Big thumbs up.
Step 2: Steep yourself in the writing of other people. Read as much as you can in your genre. Try to read from the shelf at the bookstore where you envision your book sitting some day. Then open that drawer and try to read your manuscript without getting precious about it. Pretend it's not yours.
I am best at editing my own work when I pretend it was written by someone I don't like. I try to imagine that I'm an English Lit 101 prof and I've been reading papers all day and this shit better be good because I have real books I could be reading. It sounds harsh. I guess it is. But I sincerely want people who don't know me to read my work and enjoy it, so I try to bring my most cynical mind to my editing process.
Self-Editing
This little exercise won't help you edit faster. Frankly, I don't know any tricks for speeding up the self-editing process. That's why I focus on writing that first draft quickly, so I can spend a long time editing carefully.
If any writers out there do have a trick for speeding up the editing process, I would love to hear it. Do you self-edit? Or do you hire someone to edit your work? If you hire someone, how many passes do you make at the manuscript before you fork over the cash for outside feedback?
As with most everything I write about here on the blog, I'm figuring this out as I go along. I always love to hear from you guys about what you've learned as writers.