We're continuing the #52WeeksOfScrivener series today with a little exploration of Front Matter.
One of the reasons I've put off this post is that the topic is bound to spark debates about publishing. Indie publishing vs. traditional publishing. Digital vs. print. So let's all just agree to put the debates on hold – because however you're planning to publish, Scrivener's got you covered.
Front Matter
In short, your Front Matter includes the pages in your book that come before the story actually starts. If you click on the Front Matter icon in your binder, you'll see 3 options:
Manuscript Format is for folks planning on submitting a manuscript to an agent or editor.
Paperback is for authors planning to self-publish a hard copy of thier story.
Ebook is, duh, for those planning to create a digital version of their book.
The Ebook template is super simple, so I'll be focusing on the paperback and manuscript formats here.
Meta-Data
As you click around your front matter, you will see certain items bracketed with <$____>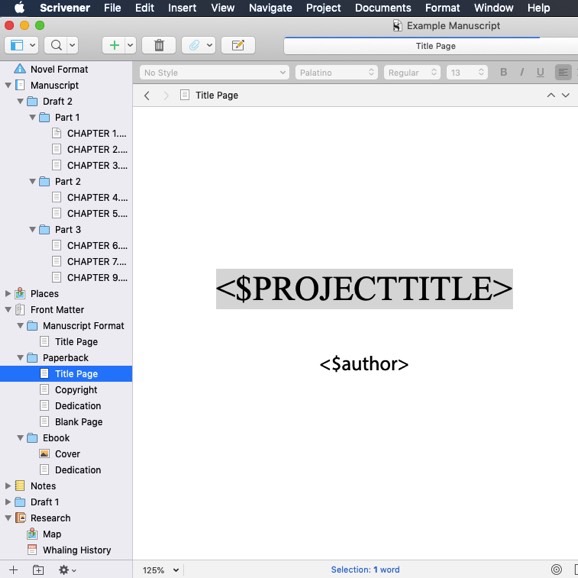 These are your meta-data fields, meaning that you can actually fill in the information in your Preferences, and Scrivener will auto-fill that information for you as needed.
So take a minute and go to Scrivener -> Preferences -> General -> Author Information. Go ahead and fill in your information. You don't even have to click save. Just close it when you're done.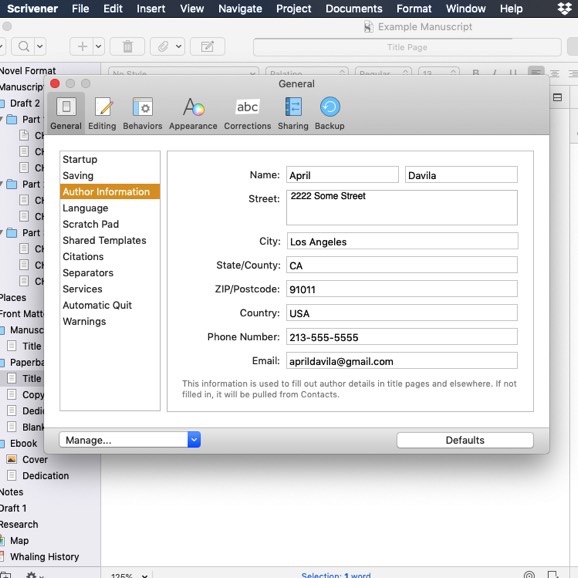 Now, when I print I can choose to include the front matter and Scrivener will format it to match which ever format I choose from a dropdown menu near the bottom of the compile menu: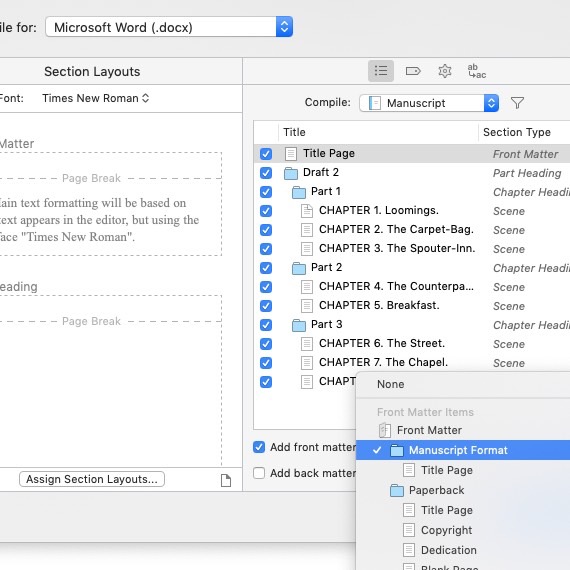 Here's what it looks like after exporting to Word: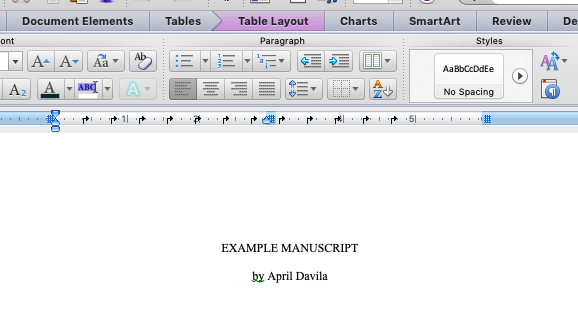 Note that I never typed anything into the Front Matter section of Scrivener. This makes it very easy to print in different formats.
Project Title
Want to change the title of your manuscript? That's an easy fix too.
Just close your document and rename it in your finder window. Scrivener automatically titles your document to match what you've called it in your files.
Or Don't
Of course, you don't have to use the meat-data functionality at all. If you KNOW your going to self-publish and you just want to go ahead and type your information into the Paperback Front Matter section, you totally can.
Just delete the tags (the <$_____> bit) and write in your information manually.
You can also just export to Word, delete all the information that autofills, and write in your information that way.
Once again, this is the beauty of Scrivener. It gives you many options so you can go with whatever works best for you.
Next Week
On deck: using color labels in your Scrivener Binder. Stay tuned, follow on Twitter with #52WeeksOfScrivener, or sign up for my newsletter to get a weekly digest of all my posts.