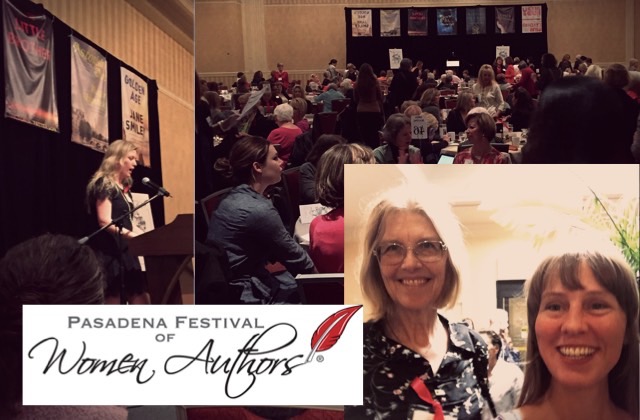 If you follow my blog at all, you know I'm really into writers supporting each other. (If you're new to the blog, and you live in LA, check out my #LitLifeLA page for weekly opportunities to see your favorite authors read their work in person.) Well, I get even more excited about writers being supported by the general public, so you can imagine my excitement for this Saturday, when the Pasadena Literary Alliance will host their annual Pasadena Festival of Women Authors. I'm like a little kid waiting for Christmas.
If you do get my #LitLifeLA newsletter and you're thinking to yourself "WTF, April? If this event is so great, why didn't you mention it in this week's update?" Please forgive me. The event was sold out long ago. Next year, I'm going to hit them up for advance notice on ticket sales (and a discount for my readers if they'll work with me), so stay tuned.
2016
I attended for the first time last year and had such a good time. You can tell by that stupid grin on my face how excited I was to meet Jane Smiley. I've been a fan of hers for years. (Also – she is REALLY tall. I'm five-foot-ten and she and I were standing on flat ground in that photo. Really tall.) I also got to meet Maggie Shipstead (that's her at the podium the left there).
Each of the authors took a turn at the microphone to talk about their experiences as authors and how they came to write the books they did. I found it so inspiring.
2017
So of course, this year, as soon as the line-up was announced, I started reading my way down the list. Yaa Gyasi's book Homegoing was absolutely stunning. I mean, they're all good books, but the reach of Gyasi's novel, spanning hundreds of years and two continents, just floored me. I'm hoping I get to meet her, but just hearing her discuss her work will be super exciting.
I don't think the event has an official hashtag, but if you're interested, I'll be tweeting and posting pictures with the hashtag #PFWA17. And do let me know if you'd be interested in discounted tickets for next year. If I get enough interest, I'll see what I can do.