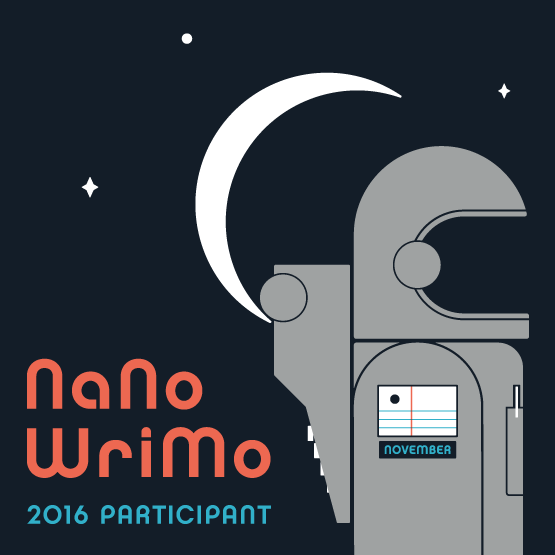 I've never done NaNoWriMo. At least, not really. And I've been losing sleep over whether I should join up for NaNoWriMo 2016.
Previous NaNoWriMo Fails
The main reason I've never participated is that, since I've been aware of the challenge, I've been trying to finish this damn novel and I was hesitant to start something new.
Last year I kind of participated. I used the NaNoWriMo framework as motivation to re-write a significant portion of my novel and I averaged about 1,300 words a day. Not bad, and it was fun to feel a part of something that so many writers participate in, but it was not in the true spirit of NaNoWriMo, and I fell about 18,000 words short of a "win."
To NaNoWriMo or Not To NaNoWriMo
But this year, if you've been following along, you know I'm close to finishing my novel. I am so close to done with my debut, in fact, that my plan has been to wrap it up this month and give it to readers in November. And while I wait for my readers to digest all those delicious pages, I will have a surplus of writing time on my hands.
Still, I was reluctant. I was talking to my sister the other day and telling her my dilemma. On the one hand, I often feel overwhelmed. With the kids, and my freelance work, I am often fighting for writing time, and I only write 600 words a day. NaNoWriMo would significantly increase my work load. On the other hand, there are a lot of things that aren't writing that tend to eat up my days: volunteering at the kids' school, social media, coffee with friends.
What's more, I have a sixty page outline for a story I've been wanting to write for about a decade, maybe longer. It is ready to be written.
NaNoWriMo 2016 for the Win!
So my sis said: "just don't do all that other stuff." And she was right. I'm a writer. My writing comes first.
While my trusted readers are compiling their thoughts on my current project, I am going to take the month of November and bust out a very rough first draft of Novel #2.
I'll ask the other moms to cover my volunteer shifts at the school. Any and all coffee dates will be subject to cancelation if I haven't made my word count for the day. I will not check Facebook before lunch.
Wish me luck. Or better yet, join me! You can sign up here, and then under the NaNoWriMo tab, and click on Writing Buddies and find my user name: aprildavila. See you there.