Here's a sentence I've waited a long time to write: I've been on book tour lately, so things have been a little hectic. (smiley face)
In case you haven't heard, my debut novel, 142 Ostriches, came out on February 25. Since then I've been traveling the west coast promoting it, and haven't had a ton of time for other things.
So I'm keep it brief this week in the #52WeeksOfScrivener series, but that doesn't mean I'm short-changing you. This little trick has actually saved me a ton of grief.
Easily Moving Files
One thing that used to frustrate me in Scrivener was that when I dragged files up or down in the binder, they tended to shift right and left as well, becoming more or less indented (some use the terms "child" and "parent" documents) and ruining the structure I had set up.
Well there is a super easy fix for that. Shift+Command+Arrow (or, as you can see below Edit -> Move -> Move Left, but really, the shortcut keystrokes are a lot easier).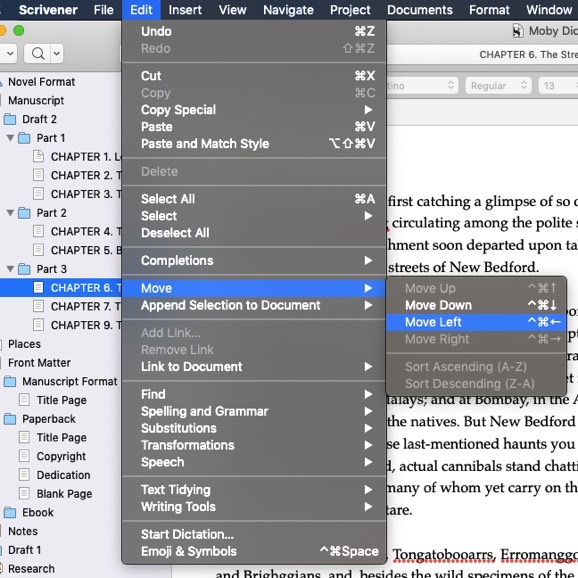 Moving right or left will make the file a "parent" or "child" whereas moving up or down simply changes the order.
Easy as pie.
Next Week
I've got another quick trick for you next week, and then I think we'll jump back into some beefier topics. Don't forget to buy my book! Stay tuned, follow on Twitter with #52WeeksOfScrivener, or sign up for my newsletter to get a weekly digest of all my posts.