Y'all know I don't write book reviews. I find them eternally stressful. BUT every now and then I read something that is so compelling that I just have to share it. Such is the situation I find myself in with this book I read recently titled "Light the Dark: Writers on Creativity, Inspiration, and the Artistic Process."
Steal Like An Artist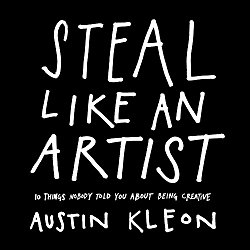 To explain why Light the Dark is so great, I have to back up a little and talk about another book I loved: Steal Like An Artist by Austin Kleon. This little coffee-table gem was published in 2012, and it's a super quick read about being a writer, full of seriously good advice. If you don't own it, I highly recommend you buy it, wrap it, and put it under the tree with a tag that says "From Santa."
My favorite quote from Steal Like an Artist is this one:
I once heard the cartoonist Gary Panter say, "If you have one person you're influenced by, everyone will say you're the next whoever. But if you rip off a hundred people, everyone will say you're so original."
Brilliant. But off topic. What was I saying? Right. The quote I was going to show you is this one:
…if you try to devour the history of your discipline all at once, you'll choke. Instead, chew on one thinker – writer, artist, activist, role model – you really love. Study everything there is to know about that thinker. Then find three people that thinker loved, and find out everything about them.
This struck me when I first read it, because it made sense, but I wasn't sure how to go about finding the artists that my favorite artists looked up to. I mean, how reliable IS that wikipedia page? Then Light The Dark fell in my lap.
Light The Dark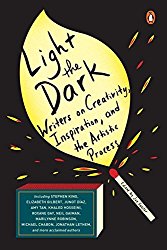 Light the Dark is a collection of essays, edited by Joe Fassler, in which some of my favorite authors expound upon the prose that changed their lives. It is unlike anything I've ever read insofar as it gives intimate insight into what has inspired these authors (including Elizabeth Gilbert, Stephen King, Junot Díaz, Roxane Gay, Neil Gaiman… the list goes on, and continues to be impressive).
I just flipped through all the underlined passages in my copy of the book, thinking I would share a few, but there are just so many, and each brilliant flash of insight glows within a constellation of ideas in a way that makes one difficult to set aside on its own.
But there is one that's been knocking around in my head since I first read it. It's by David Mitchell:
You've only got time to be a halfway decent parent, plus one other thing.
For me, that one other thing is: I've got to be writing. I have a few ways to make sure I can carve out time.
Part one: Neglect everything else…
I have found such great peace in those few sentences. I stopped pretending I was going to teach myself the guitar. I stopped training for a marathon. I have time to be a halfway decent parent and one other thing. I choose writing. That's not to say that I've given up on those things forever. Maybe once the kids are off to college I can free up some time by downgrading my parenting from halfway decent, but right now, I choose writing.
Finding Inspiration
We all know there is no shortage of books on how to be a writer. Many of them are quite good, but this book ins't about how to be a writer, it's the writers themselves talking about their love of words. And I just adored it.
So there you have it. My one not-a-review for 2017.
And if you're into this kind of thing, stay tuned. I'm working on my list of favorite books of 2017. I won't be reviewing them, just listing the ones I loved the most, but still, if you're looking for title to pick up, that's a post you'll want to check in for.
Do you have a favorite book on writing or writers? I love hearing what other people draw inspiration from. Share it in the comments down below. Cheers!