The following is a guest post by Bryan Fagan, a writer living near Portland, Oregon. He recently had a chance to pitch his novel (twice!) at a writer's conference and I asked him if he would share a little about the experience.
---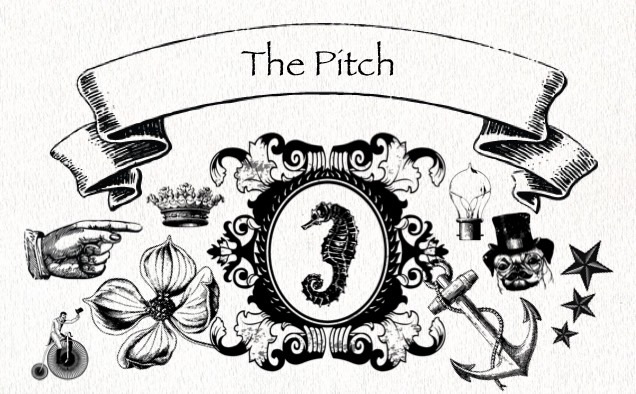 The first time I heard the word pitch was from my editor, Molly. She described her time at a writer's conference in Portland, Oregon where she won top prize in a pitch contest and secured an agent for her novel. She suggested I give it a try. At first I responded with a resounding no, as the very idea of pitching seemed utterly terrifying, but the more I thought about it the more it seemed like something I could do.
When I wrote the first draft of my novel, Dempsey's Grill, the last thing on my mind was finding an agent. It was a sugarcoated comedy sprinkled with a little romance. The characters were quirky and funny and the ending was sappy and sweet. Sure, I thought I did a good job, but I kept asking the same question: Why would a literary agent care about a novel written by a guy with no reputation?
But my sappy and sweet story transformed when I started working with my first editor. It was my work with Jo Pemmant that helped me transform my story into something I felt readers would enjoy, regardless of my reputation as an author (or lack thereof).
By the time I started working with Molly, I had more confidence in my work, and for good reason. It had come a long way. So at Molly's suggestions, this last August, I packed my bags for Portland and prepared for my first pitch.
Pitch For The Prize
I arrived in the late afternoon and met my friend Shelly. Earlier in the week we had convinced ourselves to enter the Pitch for the Prize contest that Molly had won. Looking back it is amazing how brave one can be when surrounded by friends, caffeine and endless supplies of blueberry scones. But, as we stood among writers and agents in the large dining hall I suddenly felt small and weak. Clearly the scones had taken advantage of me.
The cost to enter was $5, with the cash going to the winner. Not everyone who entered the contest would be chosen to pitch. Looking back, the mystery of whether I would be called or not caused a lot of tension, but I have to admit, it was fun to hear so many writer pitch their stories. I had settled into the role of happy observer, resigned to the idea that I wouldn't be called, when suddenly I heard my name. Memories of my long ago high-school speech class flooded my thoughts. Sadly, my secret crush on Mrs. Jones, the world's greatest English teacher, rose to the top. Focus, Bryan! Focus!
When I took center stage I was surprisingly calm. It was helpful that the judges had been kind to the writers before me. As I took the microphone and read my pitch my confidence grew. I didn't win, but it didn't matter. It was a great confidence booster.
Pitching One-On-One
The next morning at 8:30, I waited to be called for my one-on-one pitch with an agent. I was reminded of the Wizard of Oz, when Dorothy and the gang are standing behind the giant door waiting to meet the man of the hour. In a way, my fellow writers and I we were doing the same.
I was scheduled to pitch at 8:40 am, but they were running a little behind. The moderators allowed me to go into the pitch room to wait my turn. As I sat alone studying my notes I thought of my editors, Jo and Molly. They saw what I was trying to do from day one and challenged me to do it better. Their encouragement had got me to that room and I owed it to them to shake off the nerves and speak with confidence. I smiled and glanced at the empty chairs next to me, wishing they were there.
A tap on the shoulder from the timekeeper told me it was my turn. I took one final glance at my prepared script, took a deep breath and reminded myself to be polite and speak slowly. I tend to be a chatterbox when I'm nervous.
The agent was kind and professional. She forgave me for drawing a blank on a couple of her questions. She was interested in my work and enjoyed hearing how Dempsey's Grill came to be. As our meeting came to a close she requested a query, a synopsis and ten pages. The pitch was a success!!!
5 Tips For Pitching Your Story
Looking back at those ten minutes one thing stands out: The script you prepare in your head is nothing close to what happens in the actual pitch. Writing the script is about being prepared. If you're prepared and confident, it will show through to the person in front of you. Below are a few things to keep in mind.
Believe in yourself. You have written a novel, and that's an accomplishment.
Prepare for questions. Pitch to your friends and see what questions they have.
Accept the fact that you may stumble on a question. It's really okay.
Have at least two books in mind that can be compared to yours.
Do not memorize your pitch. Weave it into a conversation. By doing so you will come across relaxed and confident.
As I made my way out I whispered words of encouragement to the writer next in line. We're all in this together and that's the way it should be.