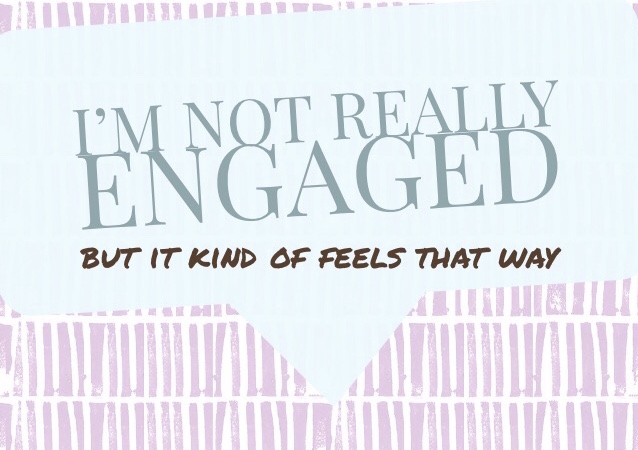 I've been reflecting lately on this unique period of time I find myself in: I have a publishing deal, but my book isn't out yet. It's this magical land wherein I have the proof of concept in hand (my book is getting published!), but there's absolutely no way for anyone to judge my work. For all anyone in the world knows, I'm the next Lauren Groff.
I'm not.
But you don't know that. Because you can't read my book yet. It's a special time. It's kind of like being engaged, only there's no special word for it in the writing world (and no fancy jewelry). You've stepped things up from dating, but you're not married yet, and everyone keeps congratulating you, with absolutely no idea if you actually SHOULD get married. Maybe you picked the wrong person. Maybe you'll be thinking about divorce before the flowers wilt. But YOUR GETTING MARRIED! Congratulations!
Don't get me wrong. I'm not comparing my book to a bad marriage. And I'm certainly not saying it's no good. I busted my ass to make that baby the very best book it could be. But the cold hard truth is that there will be people who don't like my debut novel. Hopefully there will also be people who love it. In fact, I can hope that a lot more people love it than hate it, but I just won't know until it goes out into the world.
And that's stressful.
You know what's not stressful? Getting to tell people that my book is getting published.
For eleven more months I get to enjoy this "engaged" stage of being a writer. Never again, after next February, will I get to come back to this. In this way, it's not at all like a marriage. A person can be engaged more than once, but I will never again be an unpublished author with a book deal.
So I guess I should find more ways to embrace it. Maybe a book engagement party? Maybe some fancy jewelry? Or maybe I SHOULD start telling everyone I'm the next Lauren Groff. No, that's a bad idea. Even Groff's own books have to contend with her reputation. I don't need that kind of pressure.