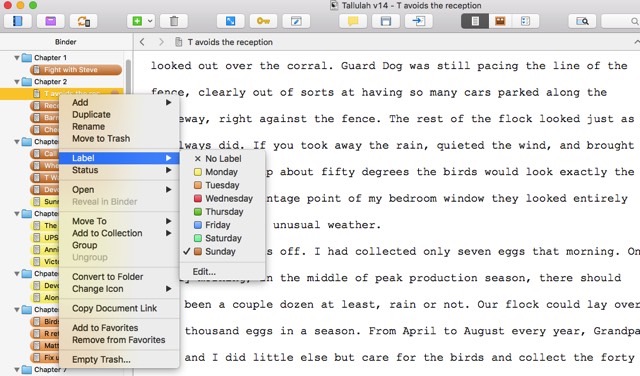 (This post assumes you're already using Scrivener. If you haven't made the leap yet, check out my post "5 Reasons You Should Be Using Scrivener.")
Color coding Scrivener is one of my favorite little writerly tricks. It's just so freaking handy. Here's how it works.
In the binder of your project simply right-click on any item (or selection of items) and move your mouse down the resulting mento to "Label." You can chose one of the existing labels, or click the bottom option there to edit and create your very own labels. To get the colors to show in your binder, you simply go to VIEW > USE LABEL COLOR IN > BINDER.
Timeline
As you can see, I have my current project set up with days of the week. My story is linear, and takes place over about eight days. I find it helpful to have this visual clue as to what scenes take place on what day. But there are plenty of other uses for labeling. Here are just a few I have heard writers discuss:
POV
You can use different colors for different points of view. There are two main benefits to this. The first is that you will be required to break your scene when you shift point of view. You will be less likely to drift between POV if you have set it in your mind as one. The other benefit will be when it comes time to edit. If you look at your binder and see 90% of your scenes are from one POV, you might question whether you even need that other POV.
Time Period or Location
If you have a story that shifts around in time or jumps locations, color coding in Scrivener can help you keep track of where you are in time and place. Again, this can be useful for big picture edits. If you had a structure in mind that rotates through time periods or locations in a regular order, then you will be able to see at a glance if the scenes you've written match the order you wanted.
Status
Some people use color labels to denote the status of a section of writing. While there is an option for setting a section's status (right there below the Labels option on the menu), the status option doesn't allow for color coding. Labels like "first draft," "final draft," "needs research," can be given a color. Then, as you work each scene toward completion, you can watch the colors change. Writer Bronwen Fleetwood has a funny post about his own use of status labels here.
Color Coding Scrivener
I'm sure there are other ways people use color coding. Maybe you are sharing sections of your work as your write it and you want to know at a glance which are out in the world and which aren't. Maybe there is a Major Event in your story and you want everything before it to be one color, while everything after is another.
If you have a creative way you use color coding in Scrivener, share it here. We are all, forever, learning.