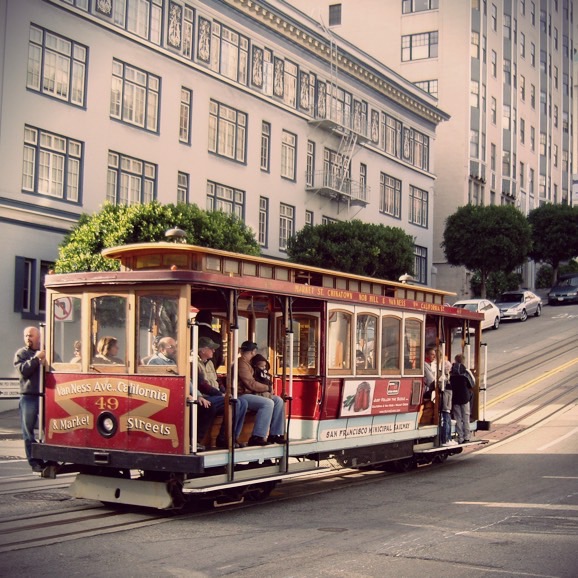 Cable cars were brought to San Francisco by Mr. Andrew Hallidie. Local legend holds that Hallidie was walking one damp, foggy night in 1869 on Powell Street hill when he saw four horses struggling to pull a heavy load up the steep incline.
When one of the horses slipped the other three, along with the driver, slid down the hillside to their deaths.
Mr. Hallidie's father, back in England, was the patent holder and world's first manufacturer of wire rope – already in use in mining operations to drag heavy loads out of deep tunnels. The younger Mr. Hallidie, horrified by the accident he witnessed, decided to use his father's wire to solve San Francisco's transportation woes.
In the face of great social skepticism, Mr. Hallidie raised the funds to build a cable line on Clay Street between Leavenworth and Kearny and on August 1, 1873 Hallidie himself took the terrifying first ride down the hill.
Leland Stanford, who had just begun construction on a mansion at the top of Nob Hill invested in the second line which would run up California street, effectively connecting downtown with what is now called the Western Addition – the sand dunes west of Van Ness.
There were eight cable car lines in 1947 when the city tried to shut them down. Public outcry saved three of the lines which have become San Francisco icons.