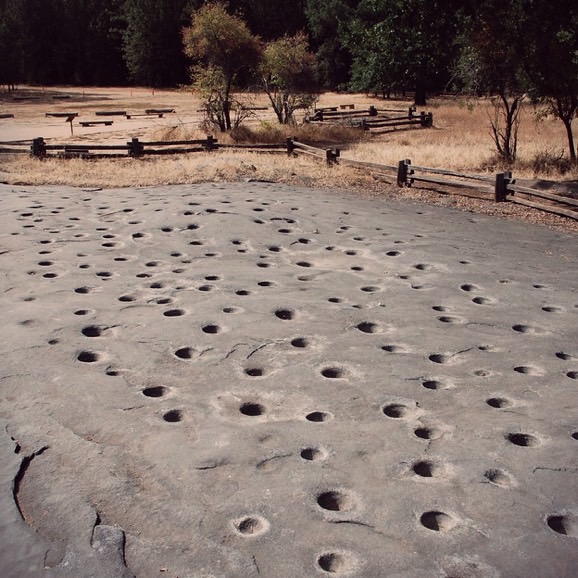 The native Miwok people, in what is now called the East Bay of Northern California, thrived for nearly 10,000 years along the bountiful creeks and rivers of the region.
The most densely populated area, with an estimated 500 permanent residents, was located eight miles east of Mount Diablo, in what is now the Morgan Territory Regional Preserve.
Today the most prominent signs of this now disbanded population are the bedrock mortars. Theses shallow pits, roughly 10cm in diameter, were worn into flat rocks where native people crushed acorns into flour for cooking.
The acorns of Northern California's Black Oak are particularly high in nutrients, and as such were a staple of the native diet. It is thought that the abundance of oak trees in the area, and the labor-intensive process of preparing acorn meal, encouraged the Miwok to establish permanent settlements.
There are over well over 1,000 bedrock mortars scattered throughout the ancient Miwok territory, from Vallejo to Milpitas. They are generally found in clusters, and their nickname "gossip rocks" hints at the social components of acorn grinding, a tradition that persisted for thousands of years before the arrival of the Spanish.