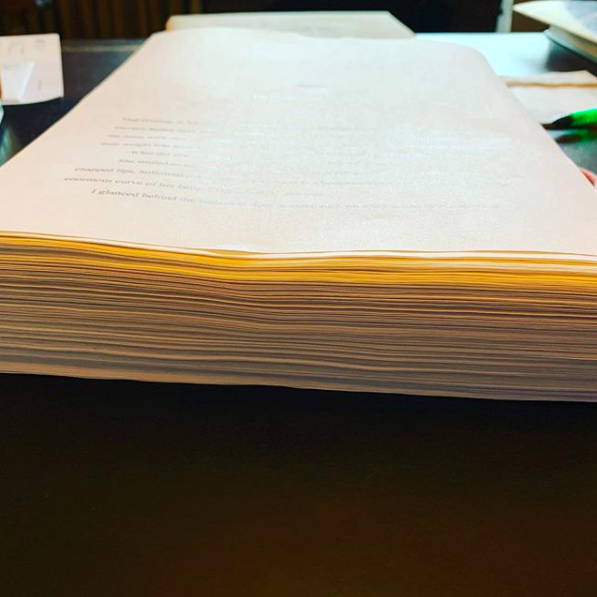 Back in March, I posted this photo to Instagram showing off the printed pages of the second draft of my second novel. This was right after my book tour was canceled, just a week or so into homeschooling the kids.
Back then I found I actually had more time than usual to write because I wasn't rushing around, shuttling kids to soccer games and jujitsu practice. I was letting the kids watch movie after movie because, you know, it was temporary, they'd be back at school soon. I would work on some edits through April and May and have a draft by June. No problem…
The Best Laid Plans
Here we are, well into September and I'm finally holding a printout of my third draft. It is reassuringly substantial despite having taken so much longer than expected. I took the long weekend to read it through and realized that, even though it's coming together really well, there are still a few things I need to change.
The most important item on my list is the first chapter. I was feeling a little lukewarm about it as I settled in with the pages and I thought maybe it was because I'm too familiar with it, but then I got to chapter two and the story started thrumming. So I have to admit that chapter one just isn't where it needs to be yet.
Don't Hold Back
I'm big believer in getting the good stuff up front. You can't expect a reader to hang in there until a story gets interesting. It has to be engaging from the very first page. It has to pose questions. It has to intrigue.
And it has to do all these things while also informing. Ideally, I want my readers to know within the first page:
where my story is set
when my story is set
who my main characters are (ideally by name)
the time of year
the question that will be answered by the end of the book
On the flip side, I want to avoid:
any ambiguity on any front
too much backstory
too many names
To do all this requires concise, specific writing.
And so I'm going to spend a little time rethinking my first chapter. What can I cut and save for later in the story? How can I get to the good stuff more quickly?
Beginnings Are Hard
Facing these edits would be daunting if I didn't know that beginnings are always hard. Maybe that's not the case for every writer, but for me, it proves true over and over.
For me, it's always best to write the first chapter last. And then re-write. And then study what other writers have done by pulling all my favorite books off the shelf and re-reading their first chapters. Then re-write mine again.
Resisting A Plan
So that's where I'm at with it. As a planner by nature, I'd love to say I'm going to spend X number of hours on this for the next Y number of days and come up with a date by which it will all be done, but if 2020 has taught us anything it's that planning is not really something we can do any more. Gotta let that go.
Because, as I sit here typing, there is ash falling down on our lawn from the Bobcat Fire and the Santa Ana winds are predicted to kick up in the next 12 hours or so. Things feel always on the verge of going up in flames. Literally.
So I'll check the fire reports every night before bed and again in the mornings. I'll help the kids navigate their online schooling. I will change the air filters in the AC so it's not too smokey in here. And in the moments between those things, I'll keep writing, grateful to have my story as a refuge from it all.