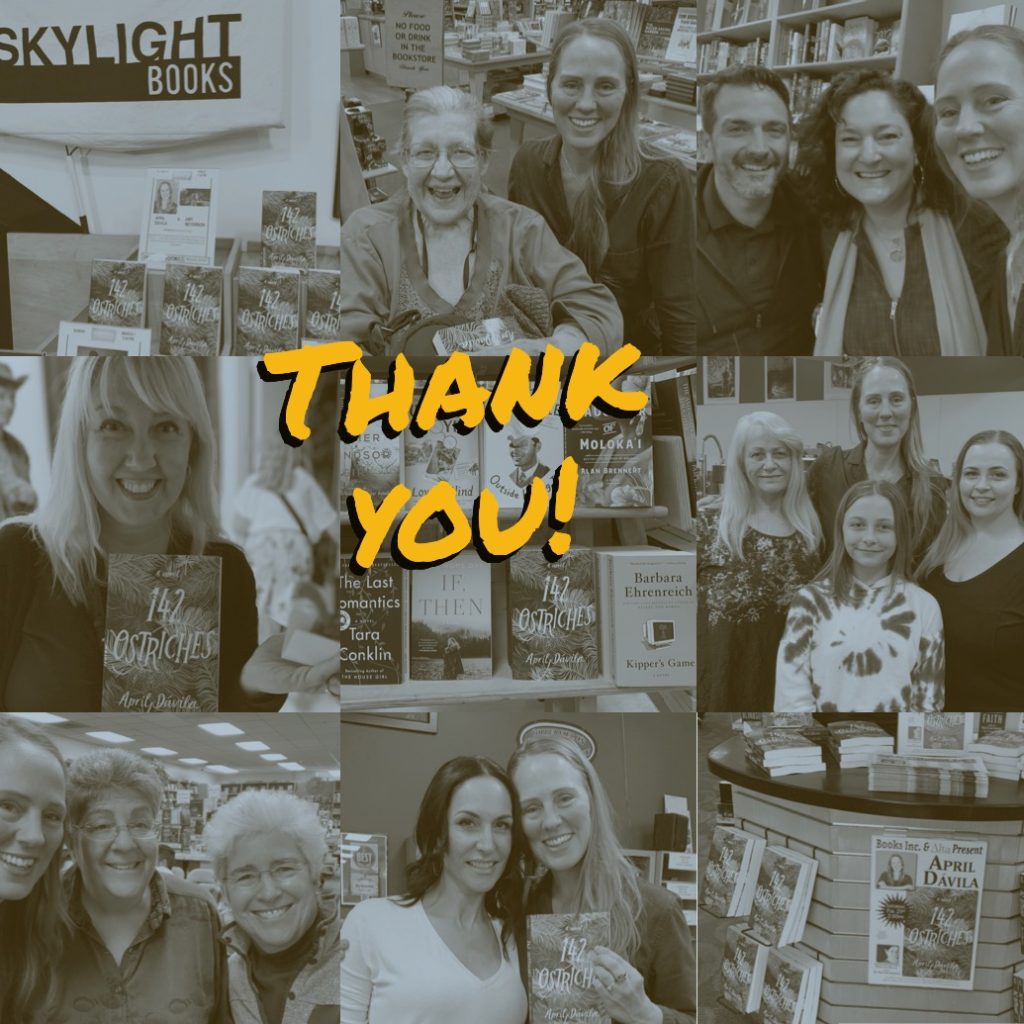 It's been just over a week since pub day and the start of my book tour for "142 Ostriches." In eight days, I've done seven events, including the launch party. I've seen old friends and made some new ones, and done it all in the midst of a burgeoning pandemic.
I'm so grateful for everyone who has come out to the events. Because we all know it's easier (and safer) to stay home. Of course it is. But you got in your cars, braved traffic, and fought for parking all to come out and support me and my book, this labor of love that I've spent the last decade pulling together. Thank you.
As I write this, I'm on a plane to San Antonio for the AWP conference and I'm not sure what to expect. On Monday there was serious talk of canceling the conference, in the face of growing concerns around Coronavirus, but then it was announced that it will go on. They have declared the conference a no handshake, no hugs event and have promised to put hand sanitizer dispensers all over the place.
Even so, I know a lot of people have decided not to go, and the conference organizers have offered a refund to anyone who would like one. There are certainly circumstances that would have me taking that refund (if, say, I lived with someone with a compromised immune system), but I'm healthy and strong and have a long-standing policy of not bowing to fear.
I also went through a lot of trouble to get a grant to cover the costs of this little excursion. I proposed in my application that, being in the first few weeks of my life as a published author, there were so many panels at AWP I needed to hear: how to build a career, how to survive a book tour, how to promote your work. This is a unique time in my life as a writer. I don't want to miss it.
That said, I'm not dismissing the reality of Coronavirus. My pockets are full of hand sanitizer and zinc lozenges, but if the conference organizers felt it was safe to continue on, I'm willing to brave it.
Like everyone else in the country, I'll be watching the news closely. I suppose if things take a dramatic turn I'll squirrel myself away in my hotel room, but I'm hopeful that things are not all so bad as you might think when you scroll through your Facebook feed.
Stay tuned. I'll let you know how it goes.