As I mentioned last Monday, I've been out on tour promoting my debut novel these past few weeks and haven't had a ton of time. So I'm dropping another super simple little Scrivener tip on you this week for the #52WeeksOfScrivener series: smart quotes.
Smart Quotes vs. Straight Quotes
In case you're not sure what I'm talking about, I found this handy visual aid:

I suppose this is a matter of taste, but in my experience agents and editors like to see smart quotes in a manuscript. They just look more elegant, more professions, more… smart.
That said, you can easily set Scrivener to use either. Just go to Edit -> Substitutions -> Smart Quotes. Check it if you want your quotes smart, uncheck it if you don't.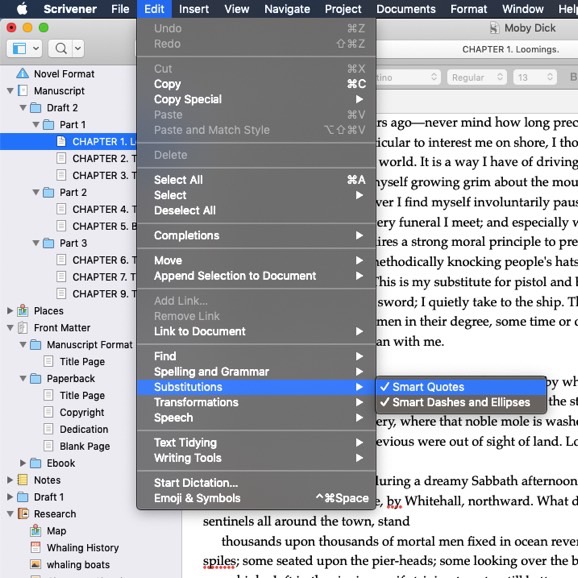 Whole Document Changes
At some point in my editing, I realized I had some sections of my manuscript that used straight quotes and some that used smart. I suspect this was a remnant of having uploaded my project to Scrivener when it was half done.
But no worries. If you want to make sure your whole document is using your preferred quotes, just go to Edit -> Transformations -> Convert Quotes to Smart Quotes (or Straight Quotes).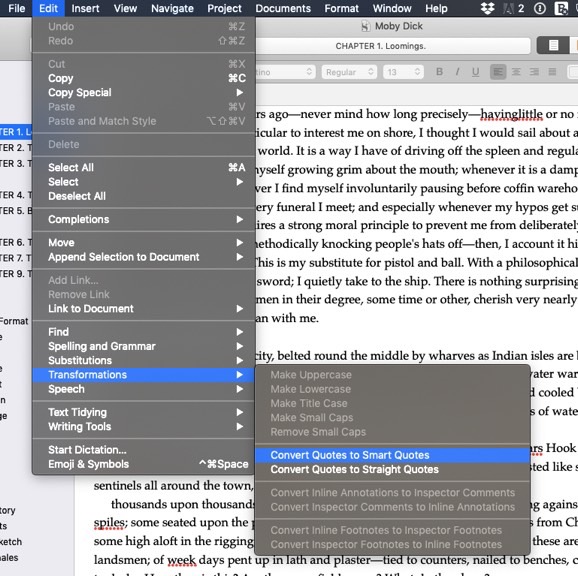 Easy as pie. Don't you wish everything is life could be this simple?
Next Week
Things should start to calm down a little next week and I'm planning to dive back in to some more juicy Scrivener tips. We still have a long way to go on this #52WeeksOfScrivener challenge. Stay tuned, follow on Twitter with #52WeeksOfScrivener, or sign up for my newsletter to get a weekly digest of all my posts.
And if you haven't yet, order your copy of 142 Ostriches on Amazon. Katie Williams (author of Tell the Machine Goodnight) called it "A hurtling adventure of family intrigue helmed by a heroine for the ages." You wouldn't want to miss that, now, would you?