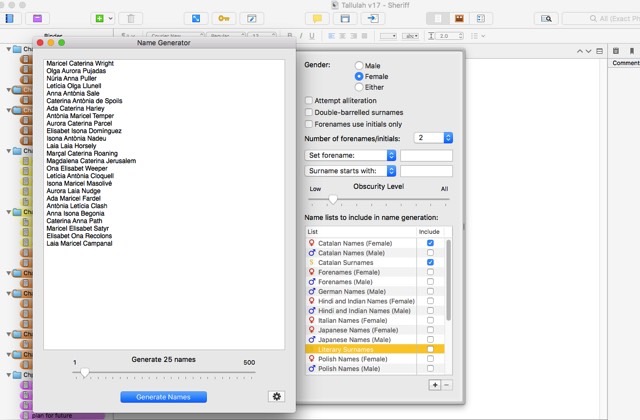 (This post assumes you're already using Scrivener. If you haven't made the leap yet, check out my post "5 Reasons You Should Be Using Scrivener.") Okay, I just had to share this. I recently discovered the Scrivener name generator.
Now, I know there are about a thousand baby-naming websites out there. In fact, while I'm at it, I have to mention Baby Name Voyager. This is my favorite baby name website because it tells you the popularity of names over time. For instance, Mary was a super popular name for babies in the 1920s. It's much less common now. Writing a character born in the 1950's? The name Taresa saw a huge jump in popularity around then. (My husband and I wasted hours on that site while trying to name our kids.)
While the baby naming websites are not to be overlooked, the Scrivener name generator should definitely be on your radar as well.
What I like about it:
You can choose the name's heritage
There's an option to include "Literary" names (book nerds rejoice)
You can set it to produce simple names, or really elaborate ones
It will play with alliteration if you choose
Find the Scrivener Name Generator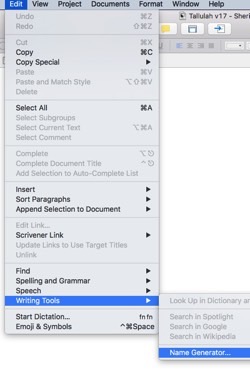 It's at the bottom of the drop down "Edit" menu.
Just click your way through and have a little fun playing around with the settings.
My next book has a Spanish character. I love long Spanish names. They sound so regal.
Here's a few from the list generated by Scrivener:
Xènia Matilde Àngela Bardera
Helena Xènia Llúcia Mountain
Blanca Marina Sara Harpoon
Matilde Helena Isona Virago
Sara Alba Isona Homs
Violeta Sara Alba Mate
I'm pretty creative, but there's no way I would have come up with Matilde Helena Isona Virago on my own. That's a great name.
Do Your Due Diligence
Whatever name you land on, please, please take a moment to google it and just make sure it doesn't have any associations you're unaware of. You really don't want a kindly old hotel proprietor named Henry Holmes (unless of course you're writing horror, in which case, the nod to history is kind of cool).
How do you name your characters?