We talked briefly about Scrivener footnotes as part of a more general post describing the Inspector window, way back in September. But there are a few more things to know about them. The latest version of Scrivener gives you a lot of options that you didn't have back in the 2.0 edition. So let's continue the #52WeeksOfScrivener series with an exploration of how footnotes work.
Footnotes
I think people often think of non-fiction when they think of footnotes, but there are some really amazing works of fiction that use them too (Infinite Jest, The Brief and Wondrous Life of Oscar Wao, A Tale For The Time Being).
There are 3 ways to insert a footnote in your writing in Scrivener. To do any of them, you start by placing your cursor where you want the footnote to appear. Then you either:
1.Click on the little cf symbol in your Inspector window: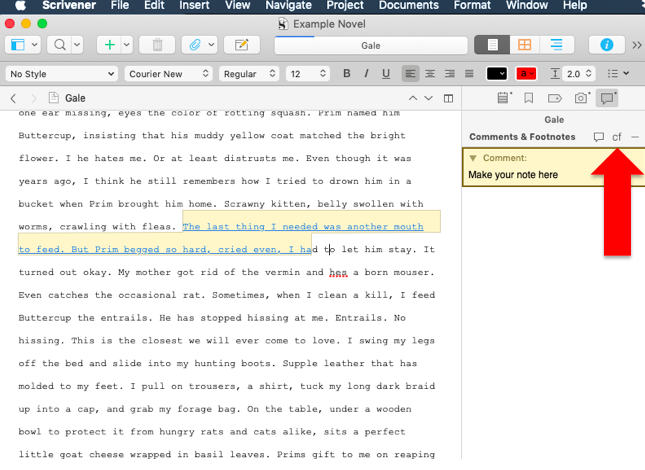 2. Go to Insert -> Footnote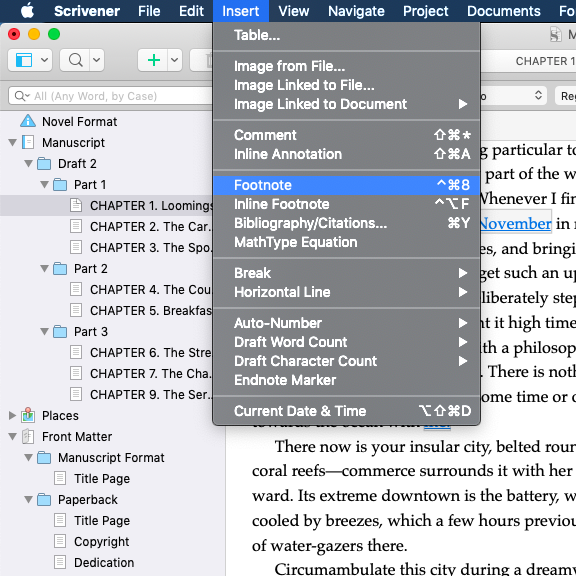 3. Use the keyboard short cuts. If you're using a lot of footnotes, I highly recommend you get familiar with these. See in the image above where the word Footnote is highlighted in blue? Now see the jargony symbols to the right of the word? That's your keyboard shortcut. In this instance, it's Shift Command 8. Hit all three of those on your keyboard at the same time to start your footnote.
Here's what they look like. You'll notice that footnotes appear in grey, while comments appear in yellow. They are also labeled "Footnote" in the top of the box there.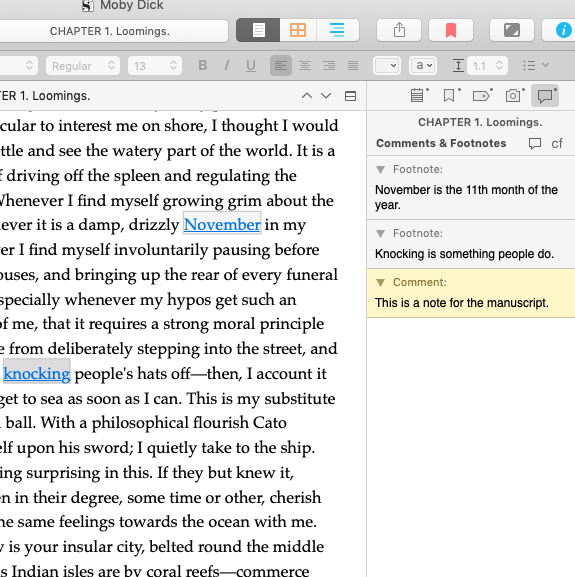 Inline Footnotes
The astute observer will notice that, right below the menu item for Insert Footnote is an option for Inline Footnote (Shift Command F). Here's what those same footnotes look like if I set them to display inline:
You'll notice they're still grey, but they appear in the line of the text. To toggle back and forth from inline footnotes to inspector window footnotes go to Edit -> Transformations -> Convert Inline Footnotes to Inspector Footnotes (or to go the other way, choose Convert Inspector Footnotes to Inline Footnotes).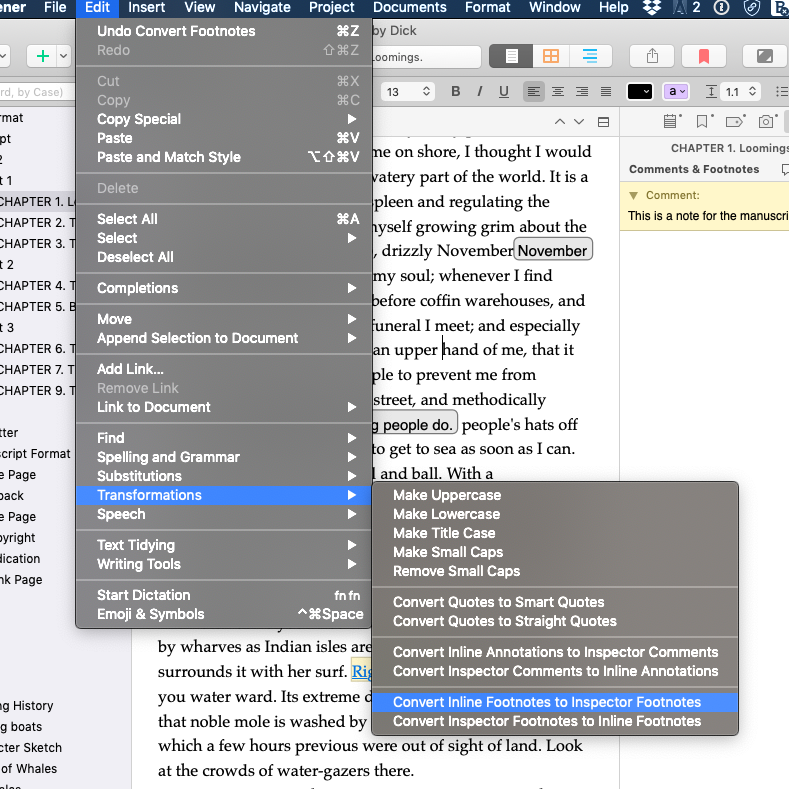 You'll notice in the two images above that the footnotes no longer appear in the Inspector window. They are now inline.
Things to Note
A few final thoughts on footnotes in Scrivener:
No matter where you're footnotes display in your WIP, they will always print at the bottom of the page.
You can change the color of the comments with control click, but footnotes stay grey.
You can change a footnote to a comment with a control click.
You can change a comment to a footnote in the same way.
If your footnotes are inline and you want to add a new one, you have to use the drop down menu or your keyboard shortcut. Clicking the cf icon (see the very first image in this post) will add an Inspector footnote. Not sure why, but if you have some footnotes inline and some in the Inspector, you can get them all in the same format by going to Edit -> Transformations (as shown above).
And that's everything I have to say about footnotes in Scrivener.
---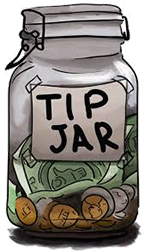 I hope you enjoyed this piece and learned a little something. If you found the content valuable, tips are hugely appreciated.