I realized last week that I have yet to write a #52WeeksOfScrivener post about the super-handy built in Scrivener Dictionary & Thesaurus.
Check it out. If you want to check the meaning of a word, or find a better one, just control-click the word in question, (or right click for you PC-lovers) to get a drop-down menu. Go to Writing Tools -> Look Up in Dictionary and Thesaurus.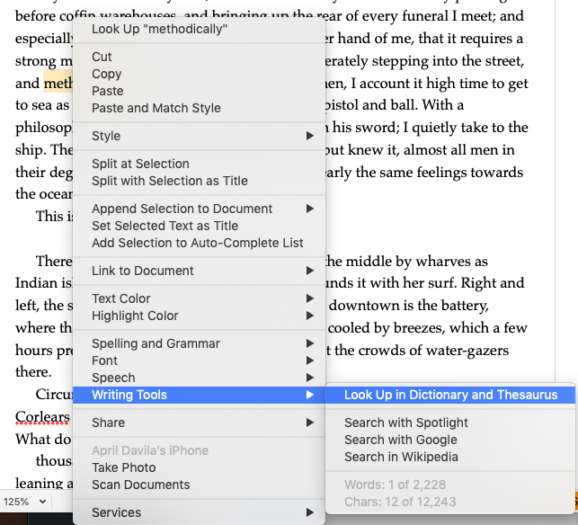 The program will automatically launch an app window that looks like this: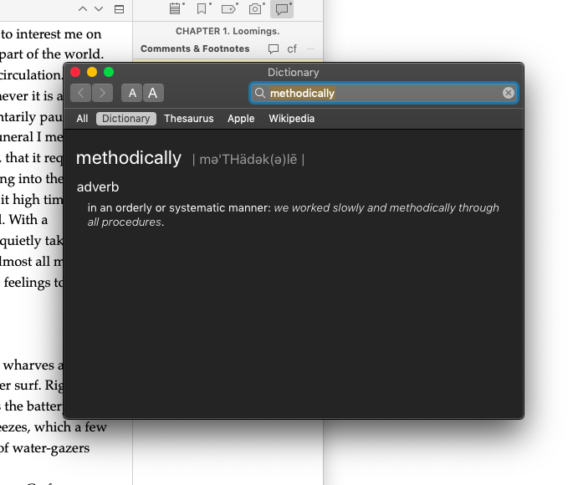 Could you click over to your web browser and do this same thing at Dictionary.com? Yes you could. But seriously, how easy is this? Just one click and it automatically opens to the word you want to know more about.
You also get the added benefit of not jumping to a web browser. I feel like opening Chrome when I'm writing is kind of like admitting that I'm not going to get any more writing done, because oh, look at that, an email, and oh, some click bait (yes, even on Dictionary.com). You know how it goes.
So that's the Scrivener Dictionary & Thesaurus. I hope you find it as useful as I do.
Next Week
Next Monday we're going to talk more about Footnotes. Stay tuned, follow on Twitter with #52WeeksOfScrivener, or sign up for my newsletter to get a weekly digest of all my posts.