We're continuing the #52WeeksOfScrivener series today by working our way through the Inspector window. Last week we talked about using Snapshots. Today: Comments & Footnotes.
Nothing in this section is rocket science, but I thought I'd just run through all the functionality, in case anything has escaped your attention.
First thing's first, click the Comments & Footnotes icon in your Inspector window: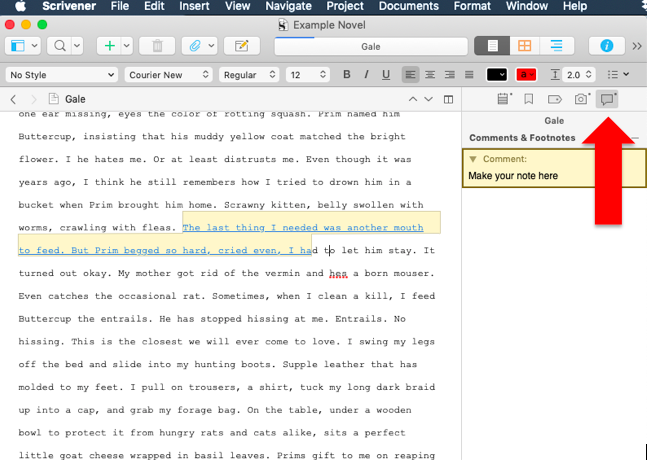 Add A Comment
In your manuscript, when you want to make a note, simply highlight the text you want to attach the note to, then click the smaller little comment icon: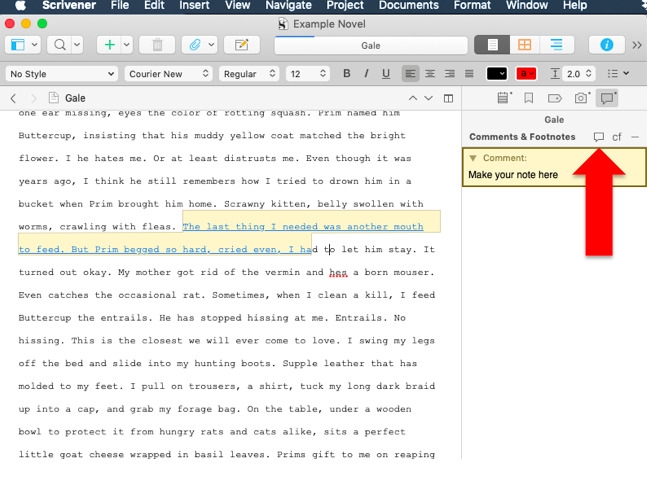 A box will automatically appear here with your name and the date. You can leave that info and add your note after it (this is handy if you're co-writing or giving notes on a project that isn't your own), but I usually type over that info, since I'm the only one working on my project.
Footnotes
Footnotes differ from Comments insofar as they are intended to show up on the printed page. But adding them is very much the same as adding a comment, just click on the little "cf" next to the Comment icon: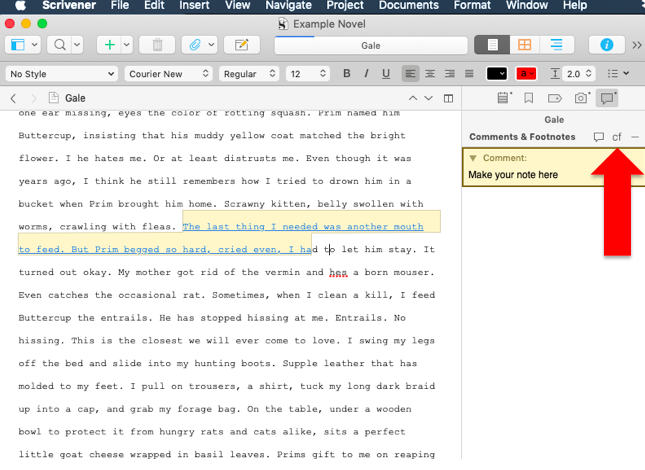 Delete Comments & Footnotes
To delete a comment or footnote, simply click on the one you want to delete and then click the little minus sign: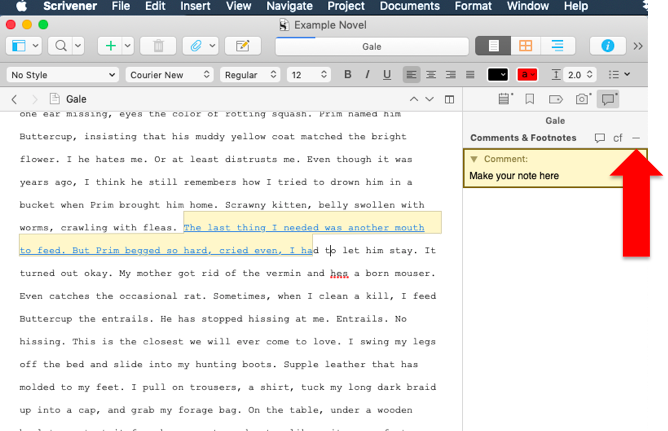 OR, if you hover over the comment, a pale "X" will appear at the top right of the square. You can also click that.
Other Things To Know
You can collapse and expand comments by clicking on the little triangle on the left side: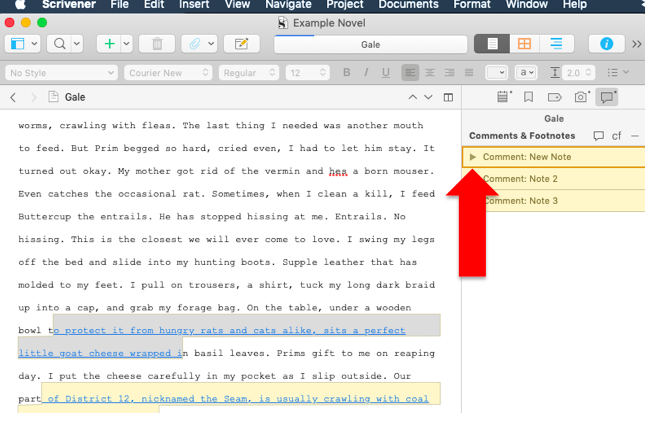 By Right Clicking on a comment (or using Control Click), you get a few more options, like color coding or converting a comment into a footnote: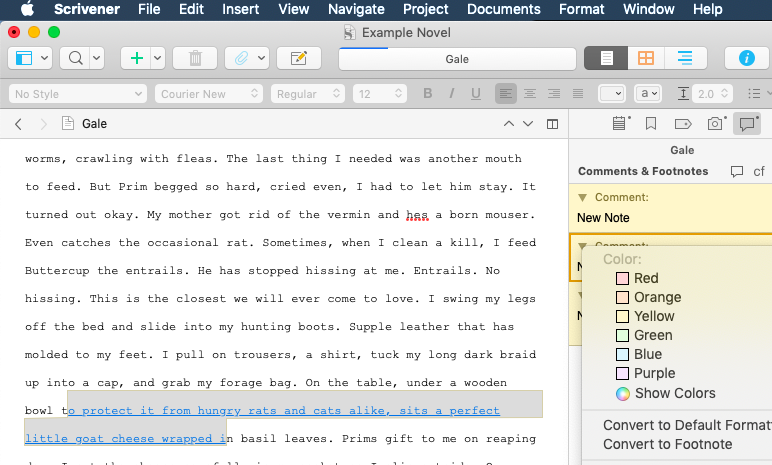 By Right Clicking on a comment (or using Control Click), you can go to "Zoom" in the drop down and make the notes larger: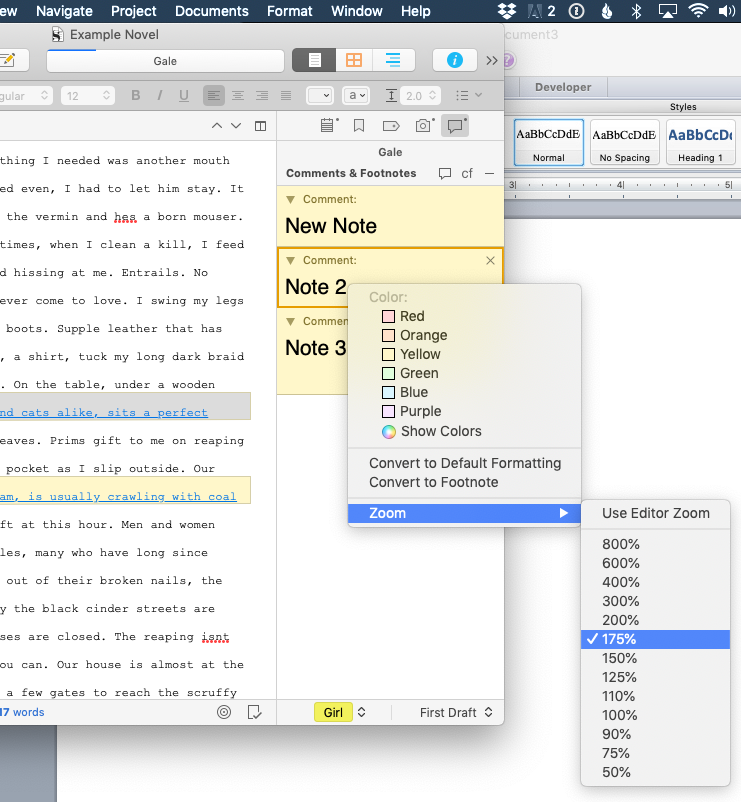 And I think that's about everything I can tell you about Comments & Footnotes.
Scrivener Webinar
On October 13, 2019, I will be teaching a webinar titled "Demystifying Scrivener." This crash course will explore the myriad ways in which Scrivener can make your writing process smoother and more organized. If you haven't yet purchased Scrivener (or are using the free trial version), you can get 20% off the purchase price when you register for the webinar. Suitable for new Scrivener users as well as long-time users who want to learn how to use the program more effectively. To sign up, visit the Pen & Paper Writing Workshops website.
Next Week
Next Monday we will move on from the Inspector and I'll show you a neat little trick for cleaning up your manuscript before you print it out. Stay tuned, follow on Twitter with #52WeeksOfScrivener, or sign up for my newsletter to get a weekly digest of all my posts.