This post marks the half-way point in my #52WeeksOfScrivener Challenge! 26 weeks down, 26 weeks to go. Today we're talking about Binder Icons and what they all mean.
A little while ago, I noticed subtle differences in the appearance of my binder icons. (If the term "Binder" isn't familiar, jump back to this post on Scrivener Vocabulary for a quick review.) Some of the page icons had folded corners, some looked like note cards.
What does it all mean? And why do they change as we work on our project? Turns out, the way the file and folder icons display actually tells you something about what (or how much) content you have in them.
The Notecard Icon

You'll notice that Part 1 of this project has a little notecard stuck to the bottom right of the folder icon. That means that I've written something in the Synopsis Section. This note is not something I've actually written as part of the story, but rather just something I want to keep in mind for Part 1. On the flip side, notice that Part 2 has no such note card image stuck to it. If I click to view the synopsis for that Part, it will be empty.
The Blank Page Icon
When I create a scene, it shows as a blank page (see scenes 1 and 2 of Part 1). But if I add notes to the synopsis for that particular scene, the blank page will become a notecard.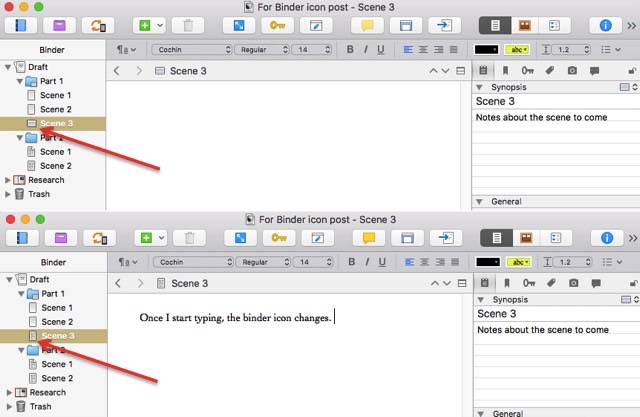 It's not until I actually start writing the content of scene 3 that the icon switches to look like a page with writing on it.
The Snapshot Icon
And what about that icon of the written page? Have you noticed that sometimes the top right corner of the page is turned over, bent like it's been dog-eared? That means something too.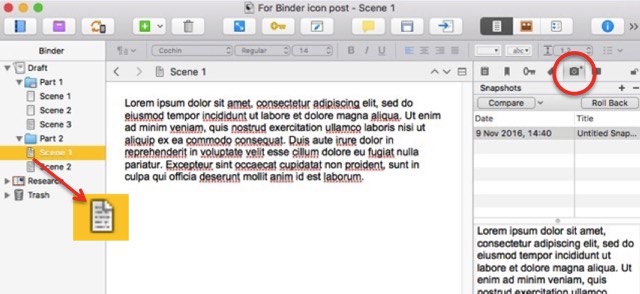 That little turned corner means that the scene has a snapshot associated with it. If you're not familiar with the snapshot function, check out my post about it here. It is a super-handy way to keep track of drafts without junking up your computer with files.
Scrivener Binder Icons
Knowing what these subtle differences in appearance mean can help you see how your project is coming along with just a glance.
Apparently, you can even change the icons all together so that they're not folders or pages, but flags or favicons or whatever. That's one step too far for me to pretend that I'm not just procrastinating, but if you're interested, The Qualitative Researcher did a pretty good blog post on it a while back.
---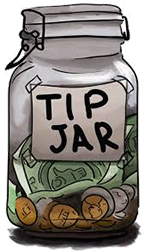 I hope you enjoyed this piece and learned a little something. If you found the content valuable, tips are hugely appreciated.