This week, in the #52WeeksOfScrivener series, we're talking about Composition Mode, which can be super handy for removing distractions. We touched on it a bit last week in my post about Scrivener and NaNoWriMo, but I want to dive a little deeper today and explore what we can and cannot do in this mode.
Open Composition Mode
It's super easy. Just click the button at the top of your screen next to the Inspector window icon.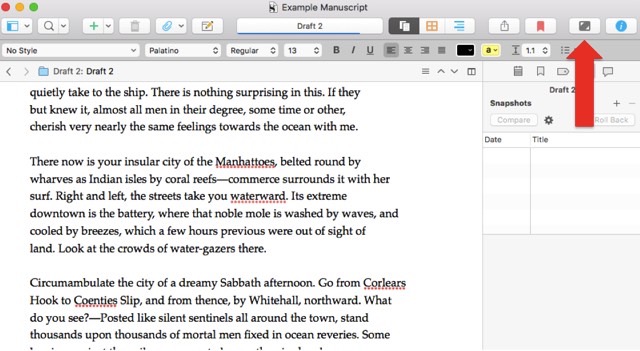 The screen will go black for a second and then give you a full-screen version of what you're working on. Something like this: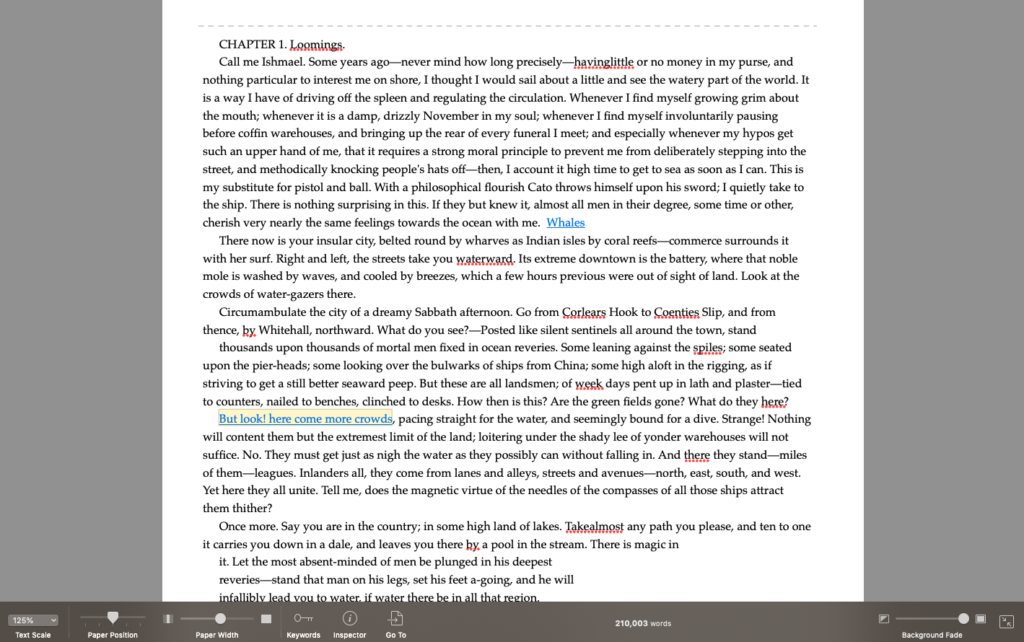 Composition Mode is excellent for writing without distraction, especially if you're trying to hit a certain word count (cough – NaNoWriMo – cough).
You won't even see that little menu across the bottom unless you move your mouse down there and hover for a second. And since the details on this image are pretty small, let me walk you through what's there.
Left to Right, you've got:
Text Scale is pretty self-explanatory. You can make your text bigger or smaller.
Page Position is useful when you want to leave a reference panel open (more on that in a second). You can move the "page" of your writing left right or center.
Paper Width is also self-explanatory. You can make the page appear wider or thinner.
I recommend not messing around with Key Words while you're in inspector mode. Key Words are more for conceptual planning and outlining. (If you DO use Key Words in Composition mode drop me a note in the comments and tell how – I've never understood why Scrivener included this in Composition Mode).
Inspector. This is actually really handy. If you click on this, you open your Inspector Window without actually leaving Composition Mode. It will pop up in a reference panel (a little window that floats over your writing window), so you can check your notes on that chapter. If you want to leave your notes open, you can shift your page position (see above) so that the reference window doesn't cover your actual writing.
Go To -> will let you jump to a different section of your WIP.
Word Count is your word count. Duh.
And the very last icon on the right is the most important. It controls how much you can see through the background of your Composition Mode window. Slide that baby all the way to the right. Otherwise, why bother with Composition Mode at all?
View Research in Composition Mode
If you have notes in your research file that you'd like to view while working in Composition Mode, do this.
Control click on the item in your research folder
Go to Open -> as Quick Reference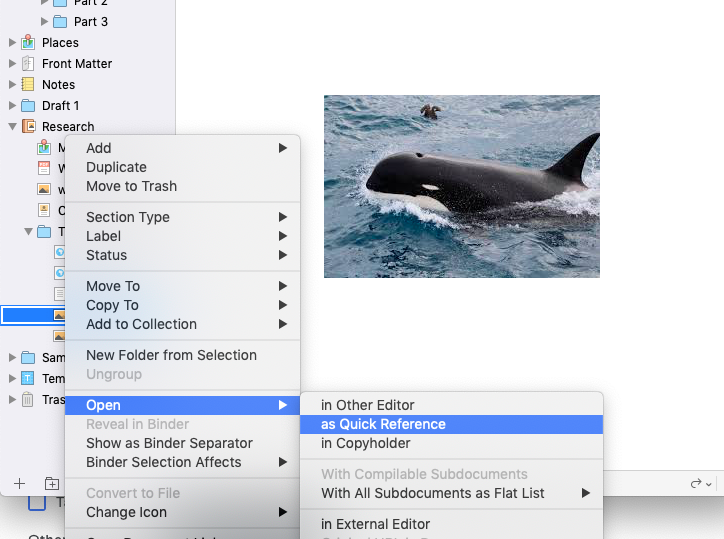 The research item (in this case an image of a whale) will open in a floating reference window.
Then click back into the chapter you're working on and go back into Composition Mode and the reference window will stay floating on top. Like so: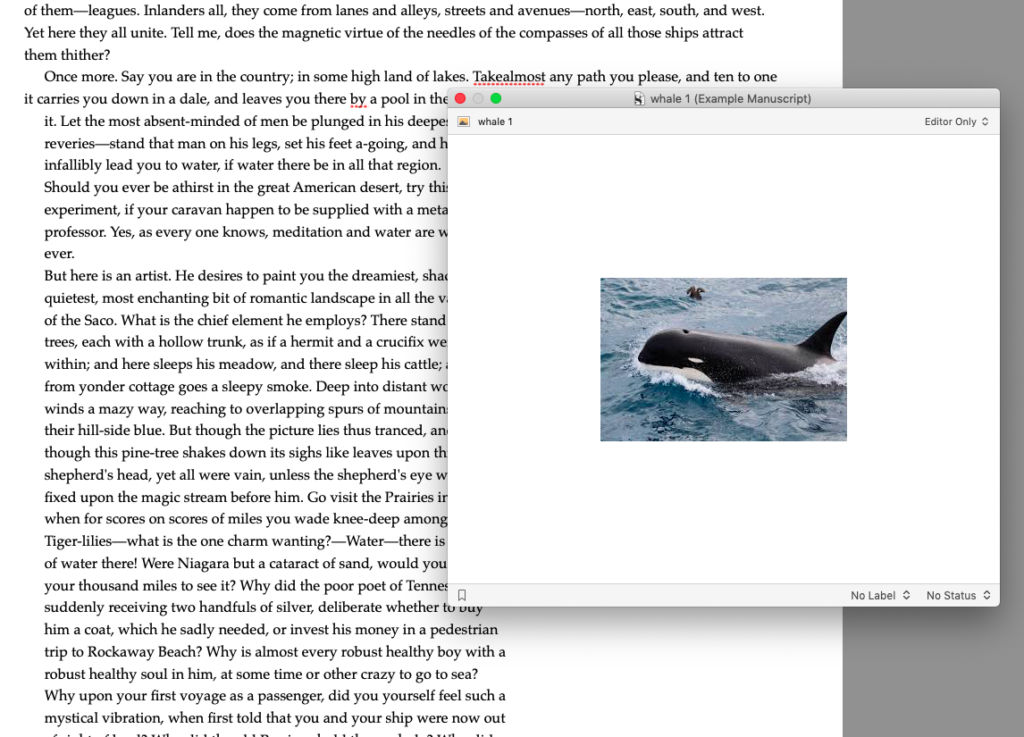 Composition Mode Settings
You can play around with the settings for Composition Mode by going to Preferences -> Behaviors -> Composition Mode. But honestly, there's not much to fiddle with, as the whole idea is keep things simple and block out distractions.
Next Week
I'm still thinking about what to cover next week. Maybe more on Quick Reference Windows. Or maybe Track Changes… Stay tuned, follow on Twitter with #52WeeksOfScrivener, or sign up for my newsletter to get a weekly digest of all my posts.