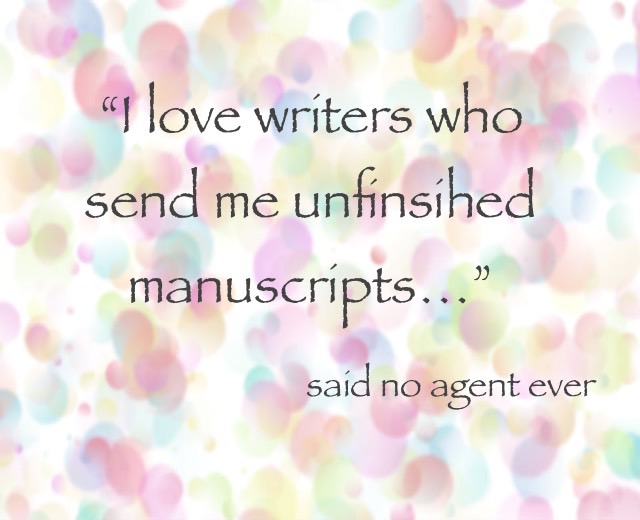 I mentioned in my last post that I am heading into a final round of edits on my novel. This is draft seventeen, I think. I've kind of lost count because I saved a few versions at major decision points, leaving a couple of draft incomplete, but this I can say for sure: I've been working on this baby a long, long time.
While on this journey, I've made a lot of writer friends. Some are a little ahead of me on this whole novel writing thing and it's been really interesting to watch them go through the motions: writing, revising, finding an agent, working with editors and finally, finally, launching their book.
Don't Sweat the Details
One friend of mine, whose debut novel is scheduled to come out next year, has counseled me more than once to not worry too much about the draft that I send to agents. She said that she worried over every sentence before sending her manuscript to agents – to the point that she was kind of burned out on it. So when her agent, and subsequently her publishing house, asked for edits, she could hardly even stand to open up her files to work on it.
Of course, she's not advocating that anyone send out slop. She knows how long I've been working on my story, and I'm pretty sure she's just trying to motivate me to get it out the door, but every time we have this conversation, it's unsettling.
Only Our Best Work
Because aren't we told, as writers, to never send anything but our best work? Every time this friend and I have our little chat I always ask: don't you think you had such an easy time finding an agent precisely because you worked so hard on every sentence?
To this she always waves her hand in my general direction, dismissing the idea. But I'm not so sure.
I know it's time for me to be done with my novel. Probably past time. I know I have to stop obsessing over my story and send it out to agents some time soon. But I can't believe that what I send doesn't matter. Especially as an unknown, first-time author, I just can't fathom sending out anything that isn't as good as I can make it.
Avoiding Burnout
That said, I understand my friend's warnings about burnout. But instead of stopping short on my work, I am instead trying to keep in mind that the end is further out than I think it is. I am framing the process of querying as a mini sabbatical, a period where I will put this project aside and work on something else.
I will use the time to rejuvenate with the expectation that more work will be needed on my novel. And even after working with my agent, it seems worth keeping in mind that there could be a whole second round of work when a publisher picks it up.
So I guess I am taking my friend's advice, just not in the way that she intended it. I won't be sending out anything short of my best work, but in the meantime, I will be pacing myself. I will keep in mind that this is a very long road.
If you're an author that has gone the traditional publishing route, what do you think of my friend's advice? Did you obsess over every sentence? Did you experience burn out? Those of us on the yet-to-be-published side of things would love to hear your thoughts.