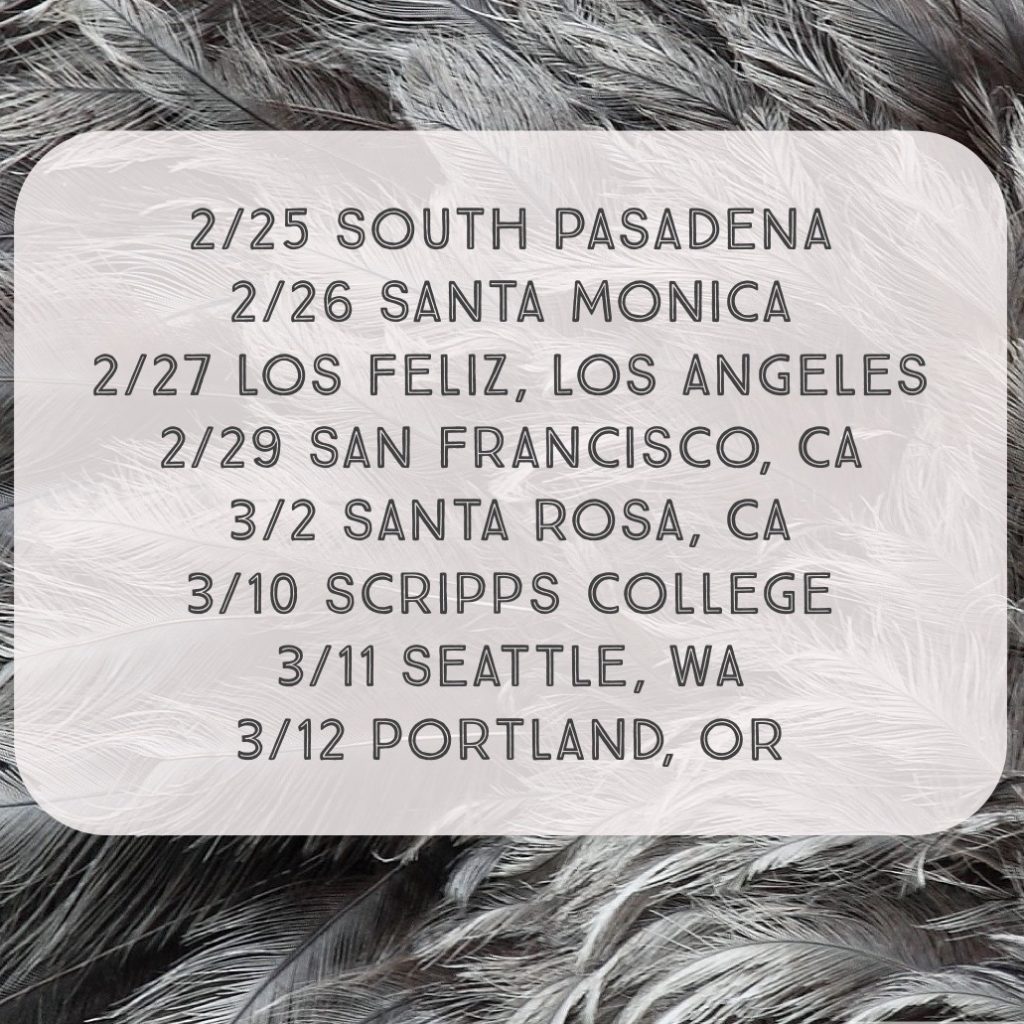 My debut novel comes out on February 25, just over a month from today! I'm very excited and my head is filled with the details of my upcoming book tour.
The Tour
Now, to be clear, it's a modest book tour. Eight stops, all on the west coast. As a debut author it's difficult to get people to come out to readings. I get that. I mean, the book hasn't even come out. Nobody knows who I am. Not yet, at least.
After talking it over with my publisher, we agreed to build the tour around the cities where I have friends and family so I gave them a list of cities and bookstores where I knew I could bring a crowd, and they called on my behalf to set up events.
Side note: since I'm working with a publisher, going the traditional route, that's the experience I have to share. If you're self-publishing, check out this post I wrote about my dad and his crazy-successful self-publishing adventure.
What I've Learned
Here are a few things I've learned about setting up a book tour as a debut author:
You (or your publisher) can't just say to a bookstore "yeah, I'm sure people will come." Nu-uh. They want a list of names. The want to know who exactly will show up for your reading and if your list isn't long enough, they'll pass. For some bookstores the magic number is 30, for some it's 100. So start making lists of the people you know, by city.
It's not the bookstore's job to find someone to be up on the stage with you. You either need to be really comfortable (and entertaining) up there by yourself, or you need to reach out to local authors to find someone to join you. This proved a lot easier to do here in LA where I know a lot of writers. I've had zero luck finding authors to work with outside of Southern California.
Where I have had some luck is in reaching out to people who are accustomed to being in the interviewer's seat. In San Francisco, for example, I've partnered with Kristy, The Sexy Grammarian. In addition to being a writer and a teacher, she hosts interviews with authors on her blog. She kindly agreed to join me on the stage for my reading in San Francisco and I'm so grateful to have her support.
Lastly, Southwest sales are your friend. So is a Southwest credit card. Rack up some miles, wait for a sale and book your travel dates with the knowledge that plans will change and you're just going to have to roll with it.
Have Fun
I will admit, I got all caught up in planning my grand old eight-stop tour and forgot for a little while that this might actually be fun. I mean, I'm not super excited about being up in front of crowds of people (like most writers, I prefer hiding behind my computer), but I am excited to visit friends and family from LA to Seattle.
Most of all – I'm thrilled to celebrate the launch of my very first novel. I've worked hard to get here. It's definitely time to party.