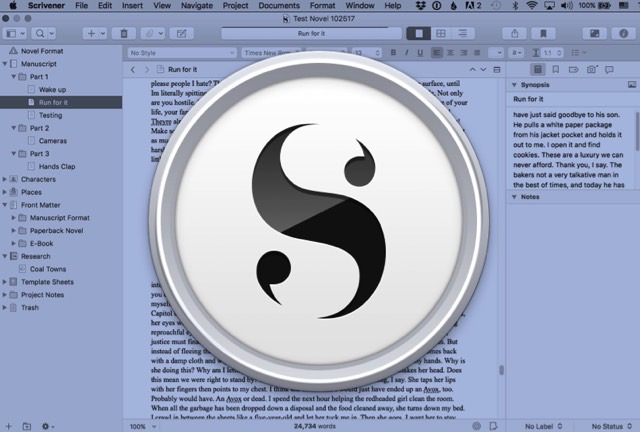 Last week I had lunch with a writer friend who recently took the leap and downloaded the Scrivener app. I was so excited for her, because, well, I'm such a Scrivener nerd. I pulled my laptop out right there in the restaurant and showed her a few of my favorite little tricks, just enough to get her started without being overwhelming. And it seemed to me that others out there might be interested. So here we go:
Four Easy Ways to Make Scrivener Instantly Awesome
1. My number one favorite way in which Scrivener helps me with my writing is with the daily word count. Especially if you're gearing up for NaNoWriMo this year, you have to check this out. It allows you to enter your writing days (for example: I write Monday through Saturday and take Sunday off), and then calculates how many words a day you have to write to hit your goal. If you miss a day it recalculates automatically. It's AWESOME for keeping on track with writing goals.
2. Second is Scrivener Snapshots. This has changed the way I organize versions of my story in ways I didn't even appreciated when I started. Used to be, every time I changed something significant in my story, I would save a new version and my files were cluttered with drafts and I could never find anything. Scrivener Snapshots made all that a thing of the past.
3. Similar to how I used to save drafts, I used to have files stuffed full of research, both on my computer and in my web browser, and I could never find anything. In Scrivener, you can drag and drop whole websites into your research files and never have to go looking for shit ever again. You can even access them when you're offline. Awesome.
4. Then, once you have all that research, you can open it easily without losing your place in your writing by using Quick Reference Windows. Sometimes I'll use this function to open an image so I can look at it as I'm describing it. Sometimes I use it to reference historical facts, or orient myself geographically in a city. You can also use it to open another chapter and view it beside the one you're working on. So handy.
Using those four basic tools makes Scrivener instantly awesome, but there's much more, when you're ready…
For Instance
You could just type "Scrivener" in to the search bar here on my website (top right there) and see everything I've ever written on the topic, but here are a few of my favorite, slightly more advanced, tricks and tips:
Color coding your files/chapters
Using the Corkboard View
Word frequency function (great for highlighting those pesky adverbs)
The handy name generator
Track your work history
Get nerdy with meta-data
And the coolest thing about Scrivener is that I keep discovering ways in which it makes my life easier (well, my writing life at least). To keep learning with me, consider signing up for my newsletter (to get these posts in your inbox every Friday), or follow me on Twitter (where I share links to all kinds of good Scrivener info).