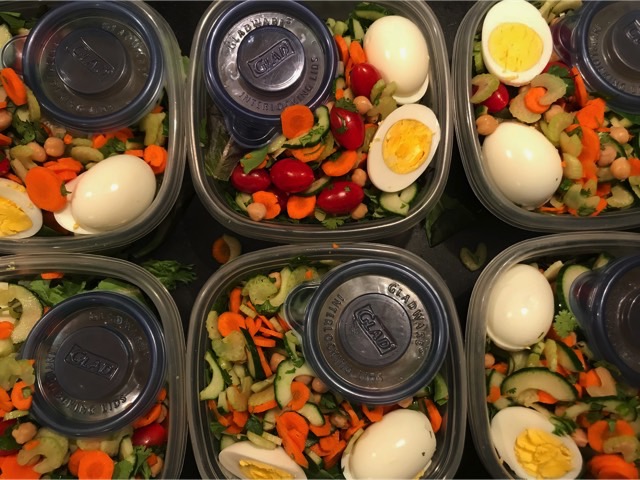 I don't know about you, but when I'm writing, I find it damn near impossible to answer the question: what should I eat? For that matter, I'm not a big fan of salads, but I know they're good for me. For years I would just eat what was convenient when my stomach started rumbling. It was usually leftovers, or crackers, or whatever would allow me to get back to work ASAP.
Then, a couple of years ago, I followed a link online to a short video about this health nut who pre-packed salads for herself every Sunday. At first it looked like a lot of work and I thought I'd never be able to make it a habit, but as I started to put on weight and feel sluggish all the time, I thought I'd give it a try. (Apologies to the health nut – I wish I could remember who she was so I could share the link.)
Right away I loved how I didn't have to think about lunch. Back when I was working the day job I just grabbed one from the fridge on my way out the door (saving time and money every day), and now that I'm writing full time I love that I eat well without having to think about it. When my stomach gets to nagging me, I just wander into the kitchen and grab one. My head can stay in the clouds and I can get right back to writing. In fact, I usually eat it in front of the computer.
Eating a salad every day has changed my life. Truly. So much so that if I get lazy and don't prep my salads on Sunday night, I start to feel yucky from eating junk food all week. And like I said, I don't even particularly like salads. So I feel a special victory in getting myself to eat one every day.
So this week on the blog, I thought I'd share a few of the things I've learned over the years that make prepping salads easier. The first time I did it, it took two hours. Ug. Now I've got it down to thirty minutes (for 10 salads – I make them for my husband too), and they last a full week before they start to get soggy.
(Please forgive my crude kitchen photography – after writing this post I have a whole new appreciation for food bloggers.)
Step 1:
Buy yourself a collection of salad-sized plastic tubs with lids. I have found the Ziplock tubs to be really durable. Then, buy the pre-washed lettuce and pack it in. You'll need a lot of it.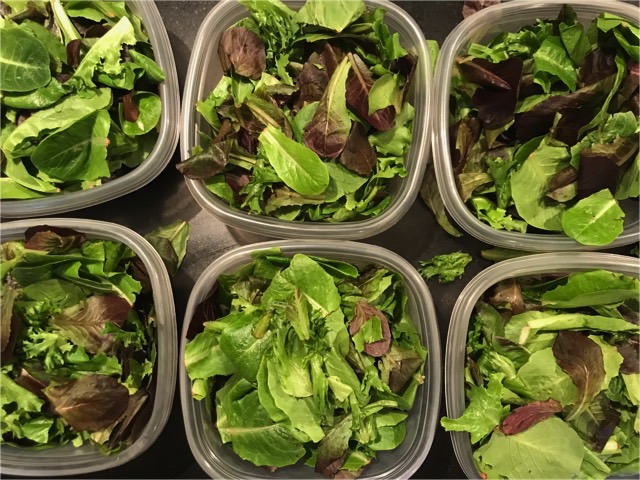 Step 2:
Prep the veggies you want to include. One thing I have learned is that you can't include anything with too much water. I even go so far as to scrape the seeds out of my cucumbers. The more moisture you seal in with your salad, the faster it will go bad. Here's what I use:
Cherry tomatoes (chopped tomatoes have too much moisture)
1 Can Chick Peas
Carrots
Celery
Cucumbers
Cabage
Cilantro
(Bell peppers would also work well, if you're into that sort of thing.)
The tomatoes and chick peas I rinse separately and put in a big mixing bowl, usually with a paper towel underneath them to soak up some of the water while they wait. Everything else (except the cilantro) get's trimmed and rinsed and put through the Cuisinart with the slicing blade in it.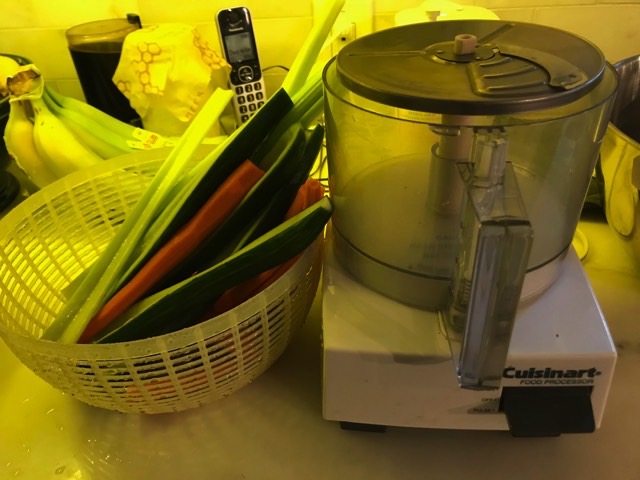 Then I mix it all together in the big mixing bowl.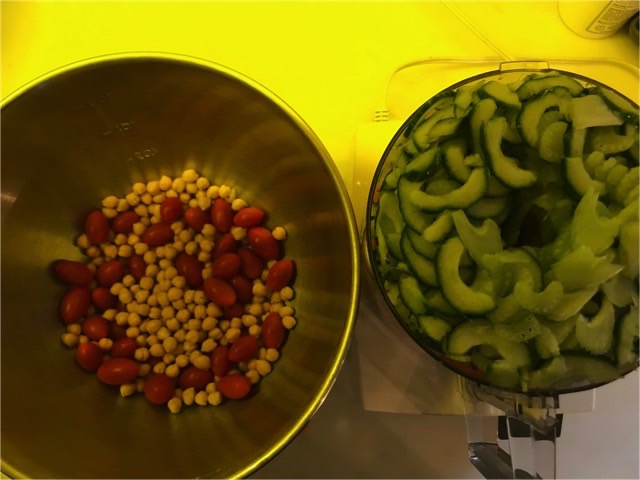 I chop the cilantro separately. It gives the salad a nice fresh taste and it's so good for you. To save time, I slice the bushy top off a rinsed bunch and then just pick out the thickest stems before chopping.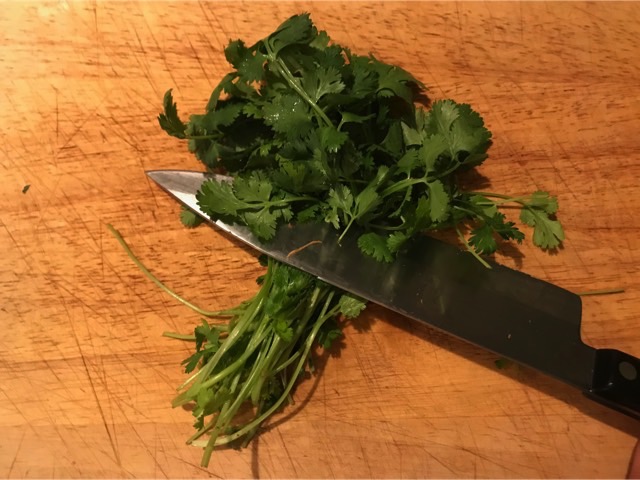 Step 3:
Once it's all stirred together I load it by handfuls (I actually use my hands here – it's faster) into the bins of salad. They will start to feel full, but trust me, you can cram a lot of salad in there.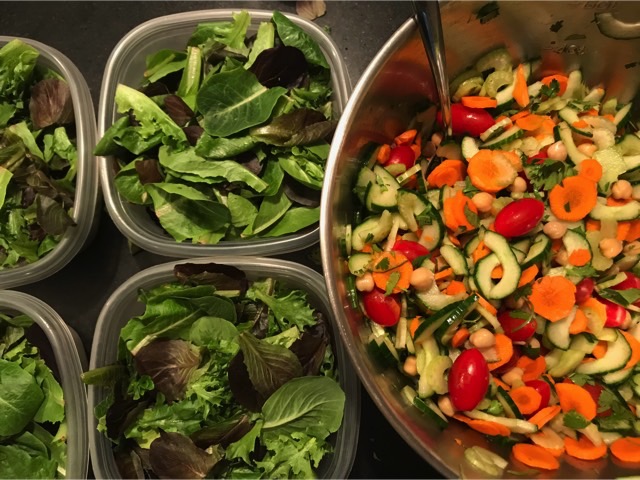 Step 4:
Fill small plastic containers with your favorite dressing and tuck them into the salads. I like olive oil and vinegar, but you can mix it up.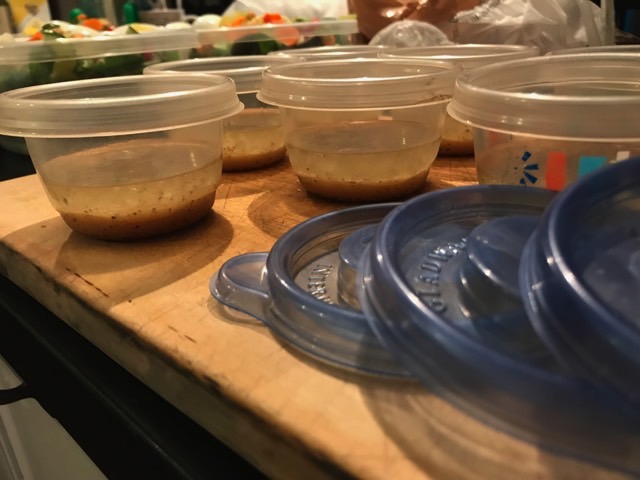 And for a little protein, I like to add an egg and a half to each salad. I also like how it looks, so inviting.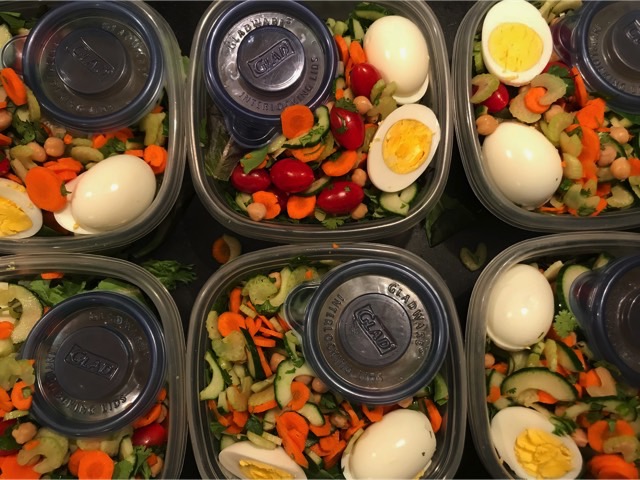 Step 5:
Make some room in the fridge and stack 'em up. (I'll be honest, sometimes this is the trickiest part).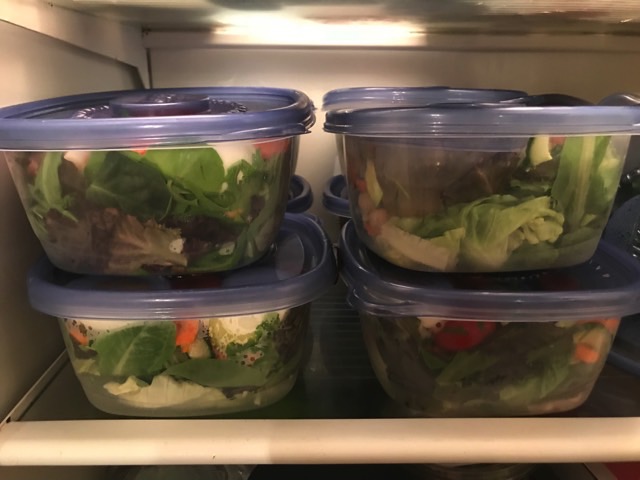 And there you have it. Healthy lunches for the whole week.
Sometimes I'll toss some nuts on top when I eat them, or slice up an avocado, but if you add the nuts when you make the salads they get all rubbery and weird and avocado just turns brown after a couple of hours. So those have to be last minute additions.
I'm telling you, having good healthy food at the ready will change your life.
Do you have any ways you set yourself up to make good choices while you're writing? I would love to hear them. Being a writer is so sedentary. It's hard to stay healthy.