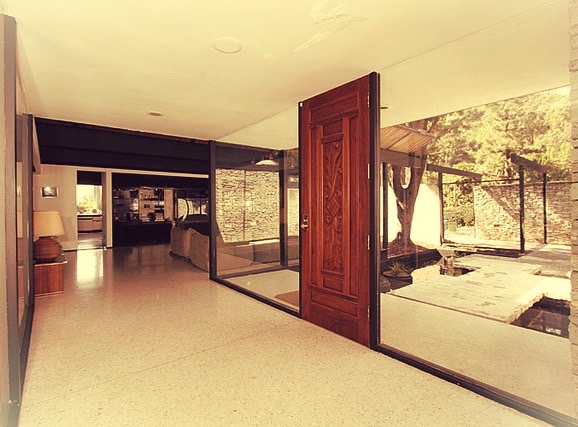 Internationally, modern architecture was characterized by smooth, clean lines and minimal ornamentation. Upon its arrival in Northern California in the 1950s, the influence of the regional beauty gave the style a unique local flavor.
California Modern Architecture strives to integrate interior and exterior spaces. Look for floor to ceiling windows, some of which swing wide open to literally remove the boundary between inside and out.
Large wrap-around decks further blur the line between the structure and its environment, while some patios have ceilings and chandelier style lighting, thus taking advantage of the region's moderate climate to make living spaces that exist exclusively outdoors.
Floor plans focus on flow, and are often developed with the existing landscape in mind, wrapping around large trees, or curving into hillsides.
Flat roofs, impractical in other areas that experience snow, minimize the structure's visual impact on the landscape.
The exteriors of California Modern homes are generally smooth wood siding combined with stucco, a nod to more historical construction in the area.