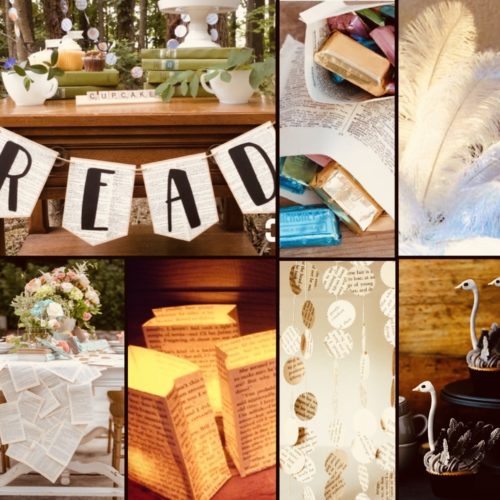 Generally speaking, I love parties. I enjoy getting dressed up, talking with friends, eating good food. But I have to tell you, planning my book launch party had me ALL stressed out.
Because here's the thing – there is a wide spectrum when it comes to parties. I mean, on one end is the kind of party where I buy a few pizza's, toss 'em on a table and plunk a 12 pack of beer next to them. On the other end is the kind of party where I blow my entire book advance on fruit platters and ice sculptures. I didn't even know where to start. I've never done this before.
Setting Some Intentions
Clearly, I needed to come in from the ends of the party spectrum. Thankfully, my husband noticed me freaking out and asked a simple question that helped me figure this shit out. He asked why I'm having a launch party.
A simple question. Why am I doing this? Well, it seems to me that people throw launch parties for two main reasons. They're either celebrating the book being published, trying to sell books, or both.
When I stopped to think about it, I realized I'm going to spend the next several months (years?) trying to sell my book. What I really wanted to do, for just one night, was celebrate that my book is finally going out into the world.
For A Good Time
I want all the people who have supported me along the way to come, have a drink, eat a cupcake, maybe partake in something silly like a photo booth or ostrich trivia game. I just want to have fun.
Once I got that nailed down, I said Hello, Pinterest, and started collecting ideas. There will be ostrich cupcakes, a green-screen photo booth, a scavenger hunt for the kids. There will be feathers. Lots of ostrich feathers.
This is not to say that the readings I have planned in the weeks after the party won't be fun, but the tone will be a little different. Fewer cupcakes, more storytelling.
Basically, the party is a chance to include the people in my life who support me, but may not be super excited to sit and listen to me talk about the book for a period of time. I'm thinking here of the kids in my life (and a fair number of the grown ups too, actually). Crazy as it seems to me, not EVERYONE lives for the love of books.
You're Invited
If you're in the area, you can check out the details of the book launch party, and the readings scheduled after the party, on my Upcoming Events page.
And if you can't make it to any of the events, remember that the best thing you can do to support any author is to buy the book.