I want to share a brilliant new writing tool I've discovered: Google Maps Street View. Around page 98, my main character, Tallulah Jones, stops in a small town outside of Barstow. In editing, I realized that I didn't really illustrate the scene very well. I couldn't, because I had never been there, and therefore had no concrete details to share about it. Then it occurred to me – I don't have to go there.
I pulled up the town on Google Maps, chose a corner that made sense for this scene to take place on and dragged the little yellow man into place to get the street view. So awesome. It was all tall signs and squat buildings in dusty shades. I "rolled" down the street a bit to see how the road slowly transitioned from sun-bleached town to lonely desert. There were two traffic signals.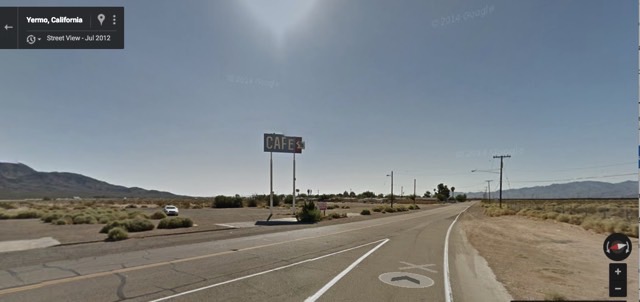 True, I couldn't smell the air, or notice how the people interact. I couldn't feel the heat of the day on my face. I couldn't hear the whistle of a train in the distance. There's a lot you can't get from "walking" down a street virtually, but if you're just looking for a detail or two to set a scene, it's amazing.
I will always opt to hit the road if given the choice, but it's nice to know this resource is available.