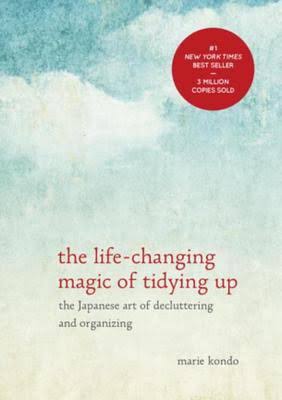 I recently finished "The Life-Changing Magic of Tidying Up." I picked it up on a whim, and totally dug it. Since finishing it, I have given away two giant trash bags of stuff from my closet, and donated four grocery bags full of books to the library. And that's only the fist two steps of five. And keep in mind, I gave away a lot of stuff before we started packing for the move. I was shocked to learn I had so much more to get rid of.
The tidying prescribed in this book starts with clothes, then books, then on to the rest of the things in your life: paper, miscellaneous stuff, and sentimental items.
I thought books would be harder to sort through, honestly. I mean, I love books. I have totally valid reasons for keeping as many as I do, and I wasn't sure I was going to be able to get rid of any. But, as instructed, I placed all my books in a pile in the living room, and then picked up each one to hold it and decide if it brought me joy. I was surprised by which books I kept. As it turns out, books I'm keeping to read "some day" don't bring me any joy. I actually found that I resented those books, and even just having them around made me feel sour. So I'm donating them.
On the flip side, there were some books, like "Moby Dick" and "Jitterbug Perfume," that I love. Just having them on my shelf makes me happy. I will probably never read them again, but it brings me joy to see them there.
Having completed those two big steps, I'm on to sorting all the paperwork in my life. I expect this will also be pretty cathartic. If you're looking to lighten the load of stuff in your life, check this book out. It's a quick read, and totally worth it.