Yes, that's right, I said it. I am voting for Hillary because she has a vagina and you can't stop me.
I can already hear the men in my life protesting (hi dad). You can't choose whom you're voting for based on what's hanging, or not hanging, between their legs. To that I say: like hell I can't.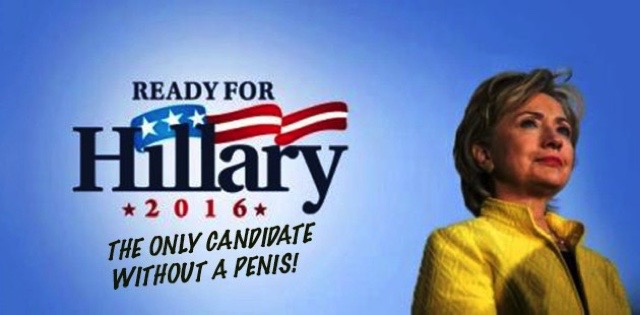 What are we really doing in an election? We are choosing someone to represent us in the governmental goings on of our country. If you're a man, then the county has been represented by someone like you since its very inception. Everyone ever elected to presidential office in the US has had a dick.
The dicks have been running the show for a long time, and frankly, I'm unimpressed.
So this year, given the opportunity to vote for a representative who actual represents me, as an American woman, I'm voting for Hillary.
Now don't get me wrong. I'm not voting for Hillary JUST because she is a woman and I wouldn't vote for JUST any woman. Take Palin, for instance. There's not enough guacamole in Mexico to make me vote for that nut job.
But given two good choices (one male, one female), I'm giving the woman an extra ten points simply for being her.
I know a lot of people will object and I suspect that most of those people are male. So guys, take a minute and try to imagine a country where every president has been female. Just attempt to conjure a history wherein only a fraction of our representatives (from mayor on up to the senate) are men. Consider what it would be like to live in a country where men made 79 cents for every dollar a woman made – and that was considered improvement.
The truth is, if you are a white man in America, you have no perspective on this.
And ladies, I understand you may not agree. You may honestly think the men are doing a fine job. For all I know, you would prefer to elect a former reality TV star that derides anyone who isn't a white male. You might also be a redneck idiot.
Take a moment, ladies, and consider who it is you really want to represent you. Then vote accordingly.