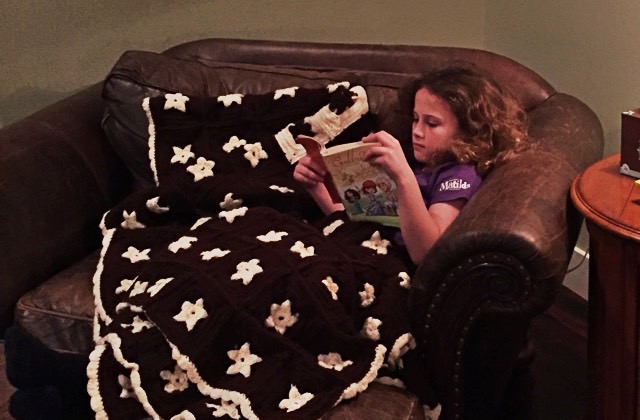 My girl loves to read. Imagine my pride. I find her reading in bed late at night. I find her reading on the playground when I pick her up at school. She actually won a reading trophy at the beginning of the school year for reading half a million words over the summer, and she wasn't even trying.
Okay, okay, I'll stop bragging and get to the point. While I love how much she reads, I sometimes worry about what she reads.
Up until now she was into age appropriate books (see the cover the Goddess Girls series in the photo above – totally made for a third grader) and really stupidly popular books like Harry Potter. I never read past the first Harry Potter, but I saw the movies and talked with friends who read it and was comfortable that I knew what kind of story she was getting.
I always told myself that I would stay ahead of her reading. That is, I always figured I would read books before her to make sure that they were appropriate, but she just reads so much, I can't keep up. Or, I guess I could, but then I wouldn't have time to read the books I want to read (see my bookshelf in the column on the right there and you'll get why our tastes don't completely align just yet, oh, and while you're at it, look me up on Goodreads, we can be buddies).
Anyhow, this all came to a head last night when my daughter decided to pick the first book in a 4-book series titled Uglies. It's for grades 7 and up. She's in third.
Here's a snippet from the Amazon page:
Playing on every teen's passionate desire to look as good as everybody else, Scott Westerfeld projects a future world in which a compulsory operation at sixteen wipes out physical differences and makes everyone pretty by conforming to an ideal standard of beauty. The "New Pretties" are then free to play and party, while the younger "Uglies" look on enviously and spend the time before their own transformations in plotting mischievous tricks against their elders.
Clearly, it's about image. I assume it has a message about image being only skin deep, and doing a bit of homework, I got hints of Hunger Games in that it sounds like a rebellion is coming, but the theme definitely taps into some of my fears about raising a girl in Los Angeles, an insanely image-conscious place.
So I dropped what I was reading to read ahead of her. I got through about sixty pages last night. It's a good read. I told her she could start it today after school, so I'm going to try to get a little more ahead of her, and then keep reading after she's asleep, but this whole staying-ahead-of-her thing is proving to be so much more challenging than I thought it would be.
Does anyone else have this problem? I want to encourage her to read, and I'm not afraid of adult topics, I just don't want her in over her head without having anyone to talk to about what she's reading. Maybe there are book clubs she could join?
If anyone has any thoughts on this one, I would sure appreciate some input.