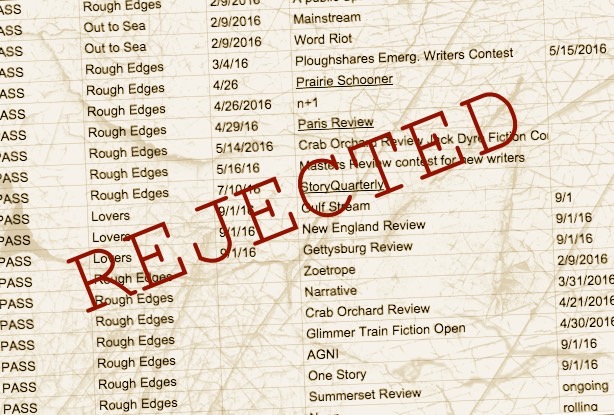 Up until last night, I was planning to write a post about how discouraged I am with literary journals and the number of times my short stories have been rejected. I was seriously considering taking a break from submitting short stories. Maybe it's just not my thing, you know?
But then I came across a post on Literary Hub titled "Why You Should Aim for 100 Rejections a Year."
Rejections in 2016
100 rejections a year!?! That's a lot of rejections.
I pulled up my handy submission spreadsheet to see how many I have collected in 2016 so far. Each one is such a slap in the face that it feels like a lot, but a quick count revealed only 35.
Only 35.
That's a lot, but it's not 100.
Apparently, the idea behind aiming for 100 rejections is that it's a way to shift your focus. If you shoot for 100 rejections, you will get some acceptances along the way. Right? But what if you don't? I didn't get a single acceptance in 2016. Not one.
One in Forty?
But maybe my acceptance rate is one in forty. I've heard numbers like that batted around by very respectable writers. If that's the case, then I theoretically have five more rejections to go before I can expect an acceptance.
But it's not just a numbers game is it? There is a level of skill that is required. And that is why rejections hurt. To a writer, rejection means "not good enough." And what if it's true? That is the question that plagues us all. What if it's true that we're no good?
Here's where I land on that one: it doesn't matter.
100 Rejections in 2017
There will always be someone who thinks my writing isn't good. And I will always keep writing. I will keep setting goals for myself, keep striving to be a better writer.
Given the imminent end of the year, I have been thinking about what goals I'd like to set for 2017. Finishing my novel and getting it out into the world is the biggie, but there's room for one more.
100 Rejections in 2017. Who's with me? We can cheer each other on, commiserate and celebrate. I'm thinking #100in2017 for those of us on Twitter. What do you think?