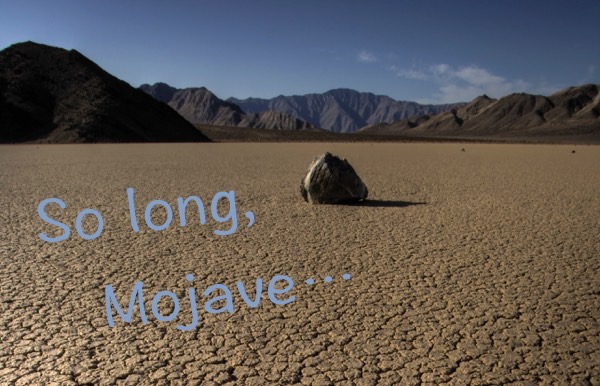 Lovely readers, it's been too long.
About a year ago, I posted that I was feeling overwhelmed and that something had to go, to make space for my top two loves (family and fiction) as well as work (boo).
Since that last post, I've found myself writing blog posts in my head. Very clever little things, believe me, you would have loved them, but the point is not all the wonderful blog posts I never wrote. The point is that I was missing my blog.
So I am very pleased to announce, here in this post, that it's BACK!
Yeah!
I have redesigned it, as you can see. No more desert images. I still love the desert, but I am working on a new project, one more broadly based in California, and I wanted a design that wasn't as locked into a theme.
And as for what I've been writing, it's been an interesting year. I spent the first six months of 2014 outlining a new project. I'm very excited about it. It's about parenthood, and love, and what it means to grow older. It took me six months to outline it because I did three rounds. At this point the outline is over 50 pages long, but then, in June, I had to set it aside and come back to Tallulah Jones.
I just couldn't stand that I had abandoned my first novel, so close to the finish line. Taking six months away from it allowed some much needed breathing room, and I'm so I'm back to it again. It is getting close, but wasn't quite as close as I thought. I am giving it my full attention (that is to say, this is what I'm working on from 5:00 to 6:30 every morning), but I'm getting sick of it again and I find I'm just itching to dive into writing the new project.
As a compromise, I am taking the next couple of weeks to continue working on it, but as of January 1, I am setting it aside again to start drafting the new novel.
I'm finding that I rather like having two larger projects in the works. It feels like I have options.
So that's that haps. It's good to be back.