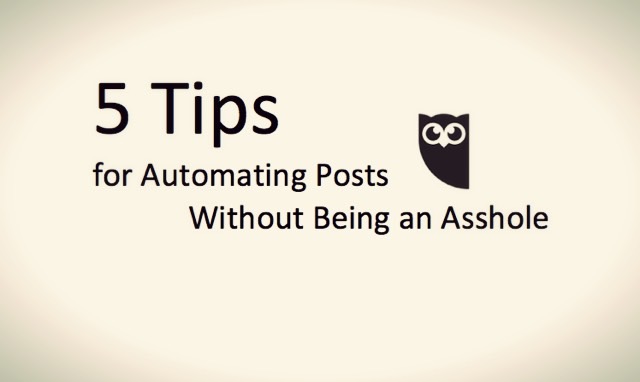 There are a lot of tools out there to help you be more consistent with social media by automating posts. If you're looking for options, you need only type "social media scheduling" into Google. Sadly, it seems that a lot of people (and companies) are using these tools to bombard people.
If social media is like a cocktail party with many discussions going on, scheduling app abusers are like the asshole who barges into a conversation and starts talking about himself. Don't be that guy.
I will admit to using schedulers. I've used a few different ones, and always come back to Hootsuite. For the money, I've found it to be the best option out there. The main benefit is consistency. I schedule posts for myself and for clients in Twitter, Instagram, Facebook, and Pinterest.
The goal in using a scheduling app should be to stay in touch with your online community while not alienating followers.
Here's how I find the balance:
Just because you can schedule a post for every five minute interval, doesn't mean you should. Constant posting is a dead giveaway that a robot is doing your posting for you. Try to schedule posts to match the frequency with which you post when you're having a spot-on social media day. For me that's two or three times a day tops. (Unless I'm at a conference, in which case I tweet a lot more, but that's a topic for another post.)
Set up your phone to alert you when someone shares or comments on something you posted. For instance, if I schedule a post asking what people are planning to read this summer, then don't respond for a week because I'm not paying attention, I kind of look like an asshole. So I set up my phone preferences to alert me when someone responds to my posts. When I get the alert I open my social media account and respond.
Think of automating posts as a backup. For instance, I schedule a post or two a day for Twitter because I know I often get busy and forget to tweet. But just as often, I don't forget. When I remember to, I tweet in real time, but if I do get swamped, I don't have to stress because I know a tweet or two will go out on my behalf.
Don't schedule retweets to go live a week later. Social media, and Twitter in particular, moves fast. You can retweet hours, maybe even a day later, but retweeting content a week later screams robot and makes you look like an asshole.
Make conversation. You can't do this until you're set up to do number 2, but it's important. You can't just go online and start telling everyone about what you're selling. This goes double for the slut-bags who want to send me pictures of their punani. People will just stop following you, or worse, report you as spam (and if you're hocking dick pics, they're right to do so).
So there you have 'em, my top five rules for not being an asshole while making the most of the scheduling technology available to you.